All our canes are ministry inspected.
Autumn fruiting varieties, i.e. Autumn Bliss, Polka are completely cut to ground level during the winter.
Plant the canes about 18" (45 cm) apart with 6 ft (1.8 m) between the rows. Avoid planting the young canes too deeply, a covering of 3" (7.5 cms) over the roots is ample. Cut the canes down to 9" (23 cms) above the soil immediately after planting (bare root canes only, Do not cut down the 1 litre potted canes). In the spring when the new shoots appear from beneath the soil the 9" stub should be cut away. The young canes are tied into a wire fence system for cropping the following season. Subsequently all canes which have fruited are cut out at ground level immediately after fruiting.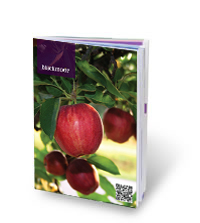 Collection - If you would like to collect your trees then use this option. Note the collection is from the Wholesale Nursery office between Monday-Friday only. Please allow 1 working days for your order to be processed prior to collection date.
We are not a Garden Centre or retail Nursery. Orders can be placed via our website and the collection option can be selected at the checkout. Your order will then be ready for you to collect during our normal opening hours which are Monday-Friday 07.30-16.30. Our plants are grown in fields that can be 2 miles away from our office so it is not possible to just turn up and select your own trees.
Delivery Charges - The delivery charge is worked out from the weight and the size of the plant. The lower postal rates range from £2.50 - £5.50, will be applied to smaller orders of the lighter plants like currants, raspberries, gooseberries, blackberries, asparagus and strawberries although larger orders will go into the £10.00 rate. Once you have put together your order the delivery charge will show before payment. All orders are dispatched in one delivery.
Delivery times - Orders placed up to Tuesday are dispatched the same week. Orders placed after Tuesday are dispatched the following week. You can add to your order at any time. If you wish to add to your order then please email us and we shall send you a ref code that can be used for free shipping. We shall let you know when your order is being shipped via email. If you change your email address at any time please change your details on your account.
To take advantage of a promotional code or gift voucher this must be entered into the redeem code box at the checkout. Discounts cannot be given once an order is completed and any codes have not been used.
Polka (New)
Raspberries
Autumn Fruiting - We believe this new variety will replace Autumn Bliss in time. Polka is well renowned for its fruit quality attributes. Its flavour can be described as clean and fruity, with a lovely aroma. Polka's yield is unquestionably high, which is aided by its early start. Plant canes 18 inches apart and cut down all cane to ground level after fruiting.
| Quantity | Description | Price | Availability | QTY |
| --- | --- | --- | --- | --- |
Great site with good value plants. Will certainly use you again and now added to my favourites.
Your website is easy to use, interesting and informative. So impressed with my first order for Raspberry canes that I have now just placed my second one.