3 Litre = Container grown and can be planted all year round. The size refers to the number of litres of compost that the container holds.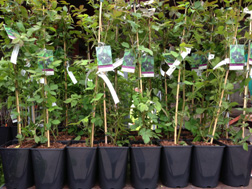 Bare Root = Field grown plants that have been freshly lifted and supplied with no soil around the roots. Only available during the dormant period November-April
Plant 6–10 feet apart (1.8–3 m). These plants should also not be set too deeply and after planting bare root canes should be cut back to 9" (23 cm).
The young shoots arising from the base of the plant are tied in as they grow and then the old 9" stub can be removed.
Subsequently pruning is similar to raspberries, canes that have fruited are cut out immediately after fruiting.
Spiral Plant Supports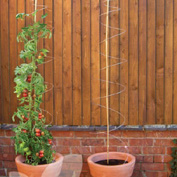 If blackberry plants are in waterlogged soils for more than a few days at a time, they normally die a slow death from lack of aeration (oxygen) or from subsequent attack by root diseases.
Plants do best in a well-drained, fertile, loam soil with moderate water holding capacity. Avoid heavy clay soils.
Sometimes you can improve a less desirable site by tilling, increasing organic matter content and building raised beds.
Collection - If you would like to collect your trees then use this option. Note the collection is from the Wholesale Nursery office between Monday-Friday only. Please allow 1 working days for your order to be processed prior to collection date.
We are not a Garden Centre or retail Nursery. Orders can be placed via our website and the collection option can be selected at the checkout. Your order will then be ready for you to collect during our normal opening hours which are Monday-Friday 07.30-16.30. Our plants are grown in fields that can be 2 miles away from our office so it is not possible to just turn up and select your own trees.
Delivery Charges - The delivery charge is worked out from the weight and the size of the plant. We have several rates that apply to UK mainland addresses. The lower postal rates range from £2.50 - £5.50, will be applied to smaller orders of the lighter plants like currants, raspberries, gooseberries, blackberries, asparagus and strawberries although larger orders will go into the £10.00 rate. Once you have put together your order the delivery charge will show before payment. All orders are dispatched in one delivery.
Delivery times - Orders placed up to Tuesday are dispatched the same week. Orders placed after Tuesday are dispatched the following week. You can add to your order at any time. If you wish to add to your order then please email us and we shall send you a ref code that can be used for free shipping. We shall let you know when your order is being shipped via email. If you change your email address at any time please change your details on your account.
To take advantage of a promotional code or gift voucher this must be entered into the redeem code box at the checkout. Discounts cannot be given once an order is completed and any codes have not been used.
Thornfree
Blackberries
Blackberry Thornfree - Moderate cropper and completely thornless. Very easy to train. Pick large fruits ripening late August to September. Leaves have good autumn colour. Ideal for planting against a wall or a fence or growing in a container. Support canes with the spiral supports.
| Size | Description | Price | Availability | QTY |
| --- | --- | --- | --- | --- |
| 10 Litre | 150-175cm | £12.00 £9.00 | 272 Available | |
| 3 Litre | 120cm | £10.00 £7.00 | 119 Available | |
| Coir Pot | 100cm | £7.50 | 45 Available | |
| 3 Per Box | Spiral Plant Supports | £12.50 | 28 Available | |