All orders are despatched in one delivery. If your order contains both bare root and container grown plants then we can only despatch when all plants are ready.
3 Litre = Container grown and can be planted all year round. The size refers to the number of litres of compost that the container holds.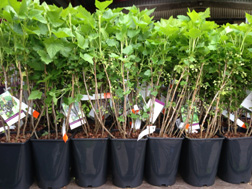 Bare Root = Field grown plants that have been freshly lifted and supplied with no soil around the roots. Only available during the dormant period November-April
2 Year Bush = A two year old plant. Generally will have 3-4 shoots.
1 Year Plant = Single shoot, around 20cm in height.
An easy crop to grow in the garden, they are however expensive in the supermarkets. Home grown, they are almost free and packed full of vitamins, especially vitamin C.
Cropping in July to August.
Plant 1.5 Metres apart. Plant blackcurrants firmly and deeply so that good strong growth will come from the base. Bare root plants - After planting always cut back all the shoots to about 1" (2.5 cms) from the ground. Pruning in subsequent years means removing about a third of the wood to encourage young basal shoots
Collection - If you would like to collect your trees then use this option. Note the collection is from the Wholesale Nursery office between Monday-Friday only. Please allow 1 working days for your order to be processed prior to collection date.
We are not a Garden Centre or retail Nursery. Orders can be placed via our website and the collection option can be selected at the checkout. Your order will then be ready for you to collect during our normal opening hours which are Monday-Friday 07.30-16.30. Our plants are grown in fields that can be 2 miles away from our office so it is not possible to just turn up and select your own trees.
Delivery Charges - The delivery charge is worked out from the weight and the size of the plant. We have several rates that apply to UK mainland addresses. The lower postal rates range from £2.80 - £5.70, will be applied to smaller orders of the lighter plants like currants, raspberries, gooseberries, blackberries, asparagus and strawberries although larger orders will go into the £10.00 rate. A higher rate of £18.00 - £32.00 will be charged for deliveries to European Countries and GY KW IV AB PH KW HS ZE IM BT DD JE PO30 PO31 PO32 PO33 PO34 PO35 PO36 PO37 PO38 PO39 PO40 PO41 Postcodes. Once you have put together your order the delivery charge will show before payment. All orders are despatched in one delivery.
To take advantage of a promotional code or gift voucher this must be entered into the redeem code box at the checkout. Discounts cannot be given once an order is completed and any codes have not been used.
Ben Connan (AGM)
Blackcurrant Bushes | Award of Garden Merit | Genus Ribes | Ribes nigrum
Blackcurrant - Ben Sarek crossed with Ben Lomond This variety carries high yields of exceptionally large fruits on a compact bush. Resistant to mildew and leaf curling midge. Picking time mid July. Plant 1.5 metre apart. A good garden choice. Received the Award of Merit from the Royal Horticultural Society.
Loyalty Reward Points. Save money as you grow with Blackmoor!
Receive 2% Reward Points for products purchased.
Receive Reward Points for writing a review and/or sharing this product.
| Size | Description | Price | Availability | QTY |
| --- | --- | --- | --- | --- |
| 2 Year Bush | 3 Litre | £10.00 | 30 Available | |
Superb quality bush. Strong roots and well developed structure. The currants I bought from Blackmoor five years ago yield good crops. These look to do the same. Thanks
Bought this Nov 2016. Growing well ! Had some fruits but I forgot to net and the birds enjoyed them !!
9 Dec 16 | Deborah Dobson
strong, well rooted plants that travelled well to me
My second review for this; my 2 year bush in container bought Autumn 2015 yielded about 250g blackcurrants this year. Very tasty, I have frozen some to make crumbles with when the apples come in and it's now putting buds out ready for next year. Excellent plant.
Beautiful healthy plant which arrived promptly and even had a cluster of flower buds. I have ordered a number of fruit plants from Blackmoor recently and they all look like they will bear fruit this year. I am looking forward to tasting blackcurrants from my new plant. Thank you Blackmoor!
Had this variety for two years now. Great flavour and heavy cropping.
Purchased one of these at Apple Tasting and another for a friend shortly after as I was impressed with the plant. Great quality and value. I'm looking forward to my first crop this year.
First time I have used Blackmoor. I bought a number of soft fruits. They all arrived looking really healthyand well packaged. The customer service were very helpful as I needed to delay delivery by one day and they did this at very short notice. All soft fruits planted before cold snap so looking forward to growing season. Would use Blackmoor again for quality of product and service. Thanks Pat
Really nice blackcurrent plants, look super healthy and well grown, they have a nice shape.
Thank you for sending the Blackcurrant bare root so expertly packed. First time I have used your company and will definitely use again. The plant was in excellent condition and now in the garden!
Arrived well packaged and quickly. As a novice, I followed instructions & cut down all the stems after planting (& felt like a murderer snipping the new growth). One anxious month later new leaves have appeared - the bush is looking 'bushy' and as a bonus the cuttings have also rooted. I will try to post next year when I've tasted!
A great choice, nicely compact and good crops of regular sized fruit. Because the plant is compact you can fit more in!
Ordered Ben Connan variety of blackcurrant. Plant arrived quickly. Well packaged and looks fantastic. Have planted in a large pot it and can't wait for the fruit next summer. I am impressed with Blackmoor and intend to buy from them in future as the preferred supplier.
9 Nov 14 | Christina Arnsby
Am extremely pleased with the service and shall continue to use Blackmoor. All goods arrived promptly and well packed.
The bare root blackcurrant looks very healthy am looking forward to eating the fruits.
Healthy plants that are now showing their first leaves this spring. Excellent service from Blackmoor.
2 Feb 14 | Amanda Crozier
My second blackcurrant from you to go with my Big Ben and red and white currants. Arrived quickly and well packaged as usual. I have tried other fruit sellers in the past but will now firmly stay with Blackmoor - you just seem to get it right with good quality stock. I also love your bargain offers!
18 Dec 13 | Karen Hoodless
I'm very pleased with the quick delivery and excellent condition of this blackcurrant. Looks like a really strong plant and I'm looking forward to seeing how it does next summer.
Just a note to say the order arrived in very good condition. Somebody obviously took great care in packing the plants and the plants themselves are of good quality. The blackcurrants are already planted and here's hoping for a good growing season.