Fruit trees are grafted onto rootstocks. Rootstocks come in 5 sizes (2 for Damsons) see the chart below, all of our trees are labelled using these codes.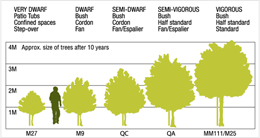 Click to enlarge
Krimsk (VVA1) Dwarfing 2.5 - 3 Metres when mature.
St Julien A (SJA) 3.5 - 4 Metres when mature.
Bare Root = Field grown trees that have been freshly lifted and supplied with no soil around the roots. Only available during the dormant period November-April
Coir Pot = Grown in a coir fibre pot that can be planted directly in the soil causing no root disturbance.
10 Litre = Container grown and can be planted all year round. The size refers to the number of litres of compost that the container holds.
1 Year Maiden = A one year old tree and the size depends on the variety but in general they will be 125cm in height and will have some side branches.
2 Year Bush = A two year old tree that has been pruned back in the first winter to form a bush shape. Generally trees will be 150-175cm in height with multiple side branches.
Damsons grow on most soils except pure peat and heavy clay. They are very tolerant of altitude, soil type, acidity and alkalinity. They will grow as far north as Scotland, but are favoured by the wetter conditions of the western side of the country. Although they like a damp climate, blossom time needs to be dry for good pollination, and they do not like their roots to stand in swampy conditions.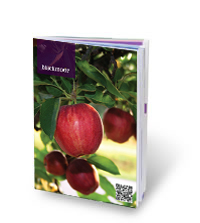 Collection - If you would like to collect your trees then use this option. Note the collection is from the Wholesale Nursery office between Monday-Friday only. Please allow 1 working days for your order to be processed prior to collection date.
We are not a Garden Centre or retail Nursery. Orders can be placed via our website and the collection option can be selected at the checkout. Your order will then be ready for you to collect during our normal opening hours which are Monday-Friday 07.30-16.30. Our plants are grown in fields that can be 2 miles away from our office so it is not possible to just turn up and select your own trees.
Delivery Charges - The delivery charge is worked out from the weight and the size of the plant. We have several rates that apply to UK mainland addresses. A delivery charge of £8.00 is for all single tree orders. £10.00 if more than one tree except in the case of the Espalier and Fan trained trees where this charge is a maximum of £40.00. The lower postal rates range from £2.50 - £5.50, will be applied to smaller orders of the lighter plants like currants, raspberries, gooseberries, blackberries, asparagus and strawberries although larger orders will go into the £10.00 rate. Once you have put together your order the delivery charge will show before payment. All orders are dispatched in one delivery.
Delivery times - Orders placed up to Tuesday are dispatched the same week. Orders placed after Tuesday are dispatched the following week. You can add to your order at any time. If you wish to add to your order then please email us and we shall send you a ref code that can be used for free shipping. We shall let you know when your order is being shipped via email. If you change your email address at any time please change your details on your account.
To take advantage of a promotional code or gift voucher this must be entered into the redeem code box at the checkout. Discounts cannot be given once an order is completed and any codes have not been used.
Shropshire Damson
Damsons | Pollination group B
Culinary Damson - Received the Award of Merit from the Royal Horticultural Society. Native to the West Midlands this small, compact tree was originally found in the hedgerows. Self-fertile variety with rich medium sized fruits. St Julien A rootstock will reach a height of 4 metres when mature. VVA 1 rootstock will reach a height of 3 metres when mature.
| Rootstock | Description | Price | Availability | QTY |
| --- | --- | --- | --- | --- |
| St Julien A | 2 Year Bush - 10 Litre | £30.00 | 8 Available | |
I have used you every winter for the last few years - keep adding to my fruit collection. Had used another fruit producer prior to that and was disappointed with their service. Never been disappointed with blackmoor service or the quality of the fruit trees/bushes.
Ordered on St Julien A rootstock late 2012 - delivered on time in good condition - let's see how it does