More Information
X - CLOSE
The plant itself grows to a maximum height of about 2 m, flowering in mid-spring, with fruit setting and ripening on a similar timetable to the blackcurrant. The plant displays hybrid vigor, growing and fruiting well and being resistant to a number of common diseases afflicting other Ribes. In particular the plant is resistant to American gooseberry mildew, blackcurrant leaf spot, white pine blister rust, and big bud gall mite. Flowers are hermaphrodite and the plant is self-fertile following insect pollination.
Plant 1.5 Metres apart. Plant Jostaberries firmly and deeply so that good strong growth will come from the base.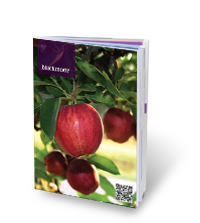 Collection - If you would like to collect your trees then use this option. Note the collection is from the Wholesale Nursery office between Monday-Friday only. Please allow 1 working days for your order to be processed prior to collection date.
We are not a Garden Centre or retail Nursery. Orders can be placed via our website and the collection option can be selected at the checkout. Your order will then be ready for you to collect during our normal opening hours which are Monday-Friday 07.30-16.30. Our plants are grown in fields that can be 2 miles away from our office so it is not possible to just turn up and select your own trees.
Delivery Charges - The delivery charge is worked out from the weight and the size of the plant. We have several rates that apply to UK mainland addresses. The lower postal rates range from £2.80 - £5.70, will be applied to smaller orders of the lighter plants like currants, raspberries, gooseberries, blackberries, asparagus and strawberries although larger orders will go into the £10.00 rate. A higher rate of £18.00 - £32.00 will be charged for deliveries to European Countries and GY KW IV AB PH KW HS ZE IM BT DD JE PO30 PO31 PO32 PO33 PO34 PO35 PO36 PO37 PO38 PO39 PO40 PO41 Postcodes. Once you have put together your order the delivery charge will show before payment. All orders are despatched in one delivery.
To take advantage of a promotional code or gift voucher this must be entered into the redeem code box at the checkout. Discounts cannot be given once an order is completed and any codes have not been used.
Top rated / best sellers
Jostaberry
The jostaberry is a complex-cross fruit bush in the Ribes genus, involving three original species, the black currant R. nigrum, the North American coastal black gooseberry R. divaricatum, and the European gooseberry R. uva-crispa. It is similar to Ribes × culverwellii, the Jochelbeere, which is descended from just two of these species, R. nigrum and R. uva-crispa.

The nearly black berry, which is smaller than a gooseberry and a bit larger than a blackcurrant, is edible both raw and cooked. It is described as having a taste intermediate between a gooseberry and a blackcurrant, with the gooseberry flavor more dominant in the unripe fruit, and the blackcurrant notes developing as the fruit ripens. The ripe fruit will hang on the bush in good condition through late summer, but is very popular with birds. The somewhat unripe fruit can be used in cooking recipes as a gooseberry. Like blackcurrants the fruit freezes well, and like many other members of the Ribes genus it is rich in Vitamin C.
£0.00

Out Of Stock Until September 2020