More Information
X - CLOSE
One of the new superfruits, this fruit has very high levels of vitamin C and antioxidants. Consisting of sweet, edible, pillow-shaped fruits, the honeyberry is delicious eaten fresh, and also used in jams, jellies, yoghurt or ice cream.
The plant is a recent addition to England. Being native to Siberia, it should have very few struggles with our climate!
The plant is a recent addition to England. Being native to Siberia, it should have very few struggles with our climate!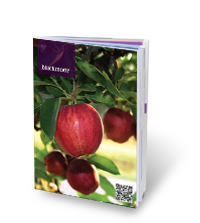 Collection - If you would like to collect your trees then use this option. Note the collection is from the Wholesale Nursery office between Monday-Friday only. Please allow 1 working days for your order to be processed prior to collection date.
We are not a Garden Centre or retail Nursery. Orders can be placed via our website and the collection option can be selected at the checkout. Your order will then be ready for you to collect during our normal opening hours which are Monday-Friday 07.30-16.30. Our plants are grown in fields that can be 2 miles away from our office so it is not possible to just turn up and select your own trees.
Delivery Charges - The delivery charge is worked out from the weight and the size of the plant. We have several rates that apply to UK mainland addresses. The lower postal rates range from £2.80 - £5.70, will be applied to smaller orders of the lighter plants like currants, raspberries, gooseberries, blackberries, asparagus and strawberries although larger orders will go into the £10.00 rate. A higher rate of £18.00 - £32.00 will be charged for deliveries to European Countries and GY KW IV AB PH KW HS ZE IM BT DD JE PO30 PO31 PO32 PO33 PO34 PO35 PO36 PO37 PO38 PO39 PO40 PO41 Postcodes. Once you have put together your order the delivery charge will show before payment. All orders are despatched in one delivery.
To take advantage of a promotional code or gift voucher this must be entered into the redeem code box at the checkout. Discounts cannot be given once an order is completed and any codes have not been used.
Honeyberry - kamtschatica
Honeyberries | Genus Lonicera caerulea | Blue Honeysuckle Plants For Sale | Buy Online
Honeyberries - When they ripen in late-spring and early-summer, the blue berries of this edible honeysuckle are covered in a white bloom, while the flesh turns burgundy-red and becomes sweet and tasty. Very rich in vitamin C, they can be eaten fresh or used to make jam. These plants are currently around 2 years old and they generally start to produce fruit when they are 3 - 4 years old.
Loyalty Reward Points. Save money as you grow with Blackmoor!
Receive 2% Reward Points for products purchased.
Receive Reward Points for writing a review and/or sharing this product.
Size
Description
Price
Availability
QTY
3 Litre
2 Year Plant
£12.80
126 Available
22 Apr 21 | Jacqui Jeynes
Best plant delivery I have experienced. Healthy, undamaged well sized plants much as I would have chosen myself. After many years of disappointing online suppliers this was an absolute delight.
Fantastic condition, well packed, healthy looking plants.
Purchased 2016. Healthy looking plant. Grew well, though not as much up as I had expected. No fruit first summer. Survived first winter in the north and already started to regrow in March.