More Information
X - CLOSE
Blackmoor Nursery is one of very few Nurseries in the UK offering gardeners the opportunity to buy Blackberry plants direct from our Nursery.
All orders are despatched in one delivery. If your order contains both bare root and container grown plants then we can only despatch when all plants are ready.
3 Litre = Container grown and can be planted all year round. The size refers to the number of litres of compost that the container holds.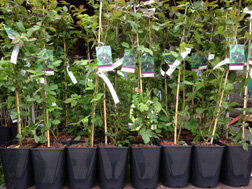 Plant 6–10 feet apart (1.8–3 m).
Subsequently pruning is similar to raspberries, canes that have fruited are cut out immediately after fruiting.
If blackberry plants are in waterlogged soils for more than a few days at a time, they normally die a slow death from lack of aeration (oxygen) or from subsequent attack by root diseases.
Plants do best in a well-drained, fertile, loam soil with moderate water holding capacity. Avoid heavy clay soils.
Sometimes you can improve a less desirable site by tilling, increasing organic matter content and building raised beds.
Collection - If you would like to collect your trees then use this option. Note the collection is from the Wholesale Nursery office between Monday-Friday only. Please allow 1 working days for your order to be processed prior to collection date.
We are not a Garden Centre or retail Nursery. Orders can be placed via our website and the collection option can be selected at the checkout. Your order will then be ready for you to collect during our normal opening hours which are Monday-Friday 07.30-16.30. Our plants are grown in fields that can be 2 miles away from our office so it is not possible to just turn up and select your own trees.
Delivery Charges - The delivery charge is worked out from the weight and the size of the plant. We have several rates that apply to UK mainland addresses. The lower postal rates range from £2.80 - £5.70, will be applied to smaller orders of the lighter plants like Bare Root (Not Potted) currants, raspberries, gooseberries, asparagus and strawberries although larger orders will go into the £10.00 rate. A higher rate of £18.00 - £32.00 will be charged for deliveries to European Countries and GY KW IV AB PH KW HS ZE IM BT DD JE PO30 PO31 PO32 PO33 PO34 PO35 PO36 PO37 PO38 PO39 PO40 PO41 Postcodes. Once you have put together your order the delivery charge will show before payment. All orders are despatched in one delivery.
To take advantage of a promotional code or gift voucher this must be entered into the redeem code box at the checkout. Discounts cannot be given once an order is completed and any codes have not been used.
Loch Ness (AGM)
Blackberry Plants | Award of Garden Merit | Genus Rubus fruticosus Loch Ness | Loch Ness Thornless Blackberry Plants For Sale | Buy Online
Thornless Blackberry Loch Ness - Currently the most widely commercially planted of any new Blackberry variety, the reason why is the quality of this high yielding variety. Around 3-4 kg per plant can be expected. Loch Ness fruits are large, very firm and a lovely glossy black in colour. Ideal for planting against a wall or a fence or growing in a container.
Loyalty Reward Points. Save money as you grow with Blackmoor!
Receive 2% Reward Points for products purchased.
Receive Reward Points for writing a review and/or sharing this product.
Size
Description
Price
Availability
QTY
3 Litre
1 Year Plant
£11.60
135 Available
Arrived healthy. Good packaging.
Good service, well packaged plant.
7 Mar 21 | Denise Stevens
Fantastic service, hassle free pick up. Good healthy, established plants. Masses of fat buds.
Ordered a few 9cm soft fruits, this one with a thornless tayberry. Service outstanding as always. We planted these in 40cm pots last autumn and they have grown significantly since then. Lots of new leaves now in March and hopefully both plants will fruit this year. Can't wait!
Great package shipping and plants thanx a lot...!
I have been waiting with baited breath for the delivery of my blackberries and raspberries and I was not disappointed. Lovely, healthy plants, great root balls and already budding. Very, very happy with everything I've purchased from Blackmoor so far.
This is the first time I have ordered from the nursery and I am absolutely delighted with the two beautiful Loch Ness Blackberry plants that arrived beautifully packaged today. The ordering and delivery service is first class and I shall definitely be ordering again. One very satisfied customer, thank you.
Beautiful blackberry plant, full of fruit ready to ripe. perfect condition not a damaged leaf on it. Fantastic! The best online service out of them all thank you.
Great package shipping and plants thanx a lot...!
I've recently ordered and received loch ness, oregon and helen blackberries in various forms, all look very healthy plants. First time ordering from you and am delighted with the quality of the plants and the whole ordering and delivery process, plants very well packaged too.
9 Oct 13 | Rosemary Roberts
I was very impressed with the service I received yesterday. The blackberry looks to be a very high quality plant. It is now planted as per instructions. We look forward to enjoying the blackberries in two years time. Very many thanks
10 Jun 13 | Alan Fountain
Only last week I ordered four Blackberry plants, including Helen, Loch Ness, Oregon Thornless and Waldo. I was then kept informed by e-mail as to the status of my order by both Blackmoor and the courier, and, three days later four excellent plants were delivered. I could not have asked for more. - one very satisfied customer.