More Information
X - CLOSE
Fruit trees for sale | Asian Pear Trees.
Blackmoor Nursery is one of very few Nurseries in the UK offering gardeners the opportunity to buy Asian Pear fruit trees direct from our Nursery.
All orders are dispatched in one delivery. If your order contains both bare root and container grown plants then we can only dispatch when all plants are ready.
Asian pears make up a unique group, really quite unlike either apples or European pears. Many of them are shaped like apples. Asian pears are typically very crisp, very juicy, very sweet, and very low in acid.
Asian Pears are self fertile. They would grow to around 2-3 metres when mature. Smaller if grown in a pot as the pot would restrict the growth.
Most suburban situations provide good pollen due to the close proximity of other gardens. It is not always necessary to have pollinators if the bees and other pollinating insects are generous with their visits.
Asian Pears can be pollinated with other Pear varieties.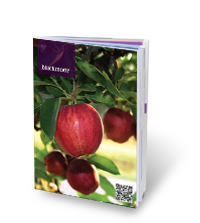 Collection - If you would like to collect your trees then use this option. Note the collection is from the Wholesale Nursery office between Monday-Friday only. Please allow 1 working days for your order to be processed prior to collection date.
We are not a Garden Centre or retail Nursery. Orders can be placed via our website and the collection option can be selected at the checkout. Your order will then be ready for you to collect during our normal opening hours which are Monday-Friday 07.30-16.30. Our plants are grown in fields that can be 2 miles away from our office so it is not possible to just turn up and select your own trees.
Delivery Charges - The delivery charge is worked out from the weight and the size of the plant. We have several rates that apply to UK mainland addresses. A delivery charge of £9.95 is for all single tree orders. £11.40 if more than one tree except in the case of the Espalier and Fan trained trees where this charge is a maximum of £40.00. The lower postal rates range from £2.80 - £5.70, will be applied to smaller orders of the lighter plants like currants, raspberries, gooseberries, blackberries, asparagus and strawberries although larger orders will go into the £10.00 rate. Once you have put together your order the delivery charge will show before payment. All orders are dispatched in one delivery.
Delivery times - Orders placed up to Tuesday are dispatched the same week. Orders placed after Tuesday are dispatched the following week. You can add to your order at any time. If you wish to add to your order then please email us and we shall send you a ref code that can be used for free shipping. We shall let you know when your order is being shipped via email. If you change your email address at any time please change your details on your account.
To take advantage of a promotional code or gift voucher this must be entered into the redeem code box at the checkout. Discounts cannot be given once an order is completed and any codes have not been used.
Top rated / best sellers
Asian Pear Trees
Fruit trees for sale | Asian Pear Trees. Asian pears make up a unique group, really quite unlike either apples or European pears. Many of them are shaped like apples. Asian pears are typically very crisp, very juicy, very sweet, and very low in acid. Fruit tree growing guide click here>