National Childrens Gardening Week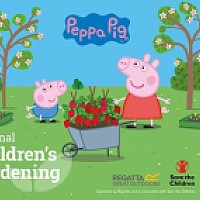 For the first time, National Children's Gardening Week is teaming up with Peppa Pig, Regatta Great Outdoors, and Save the Children to inspire children and families to get outside and enjoy gardening.
National Children's Gardening Week takes place 29th May – 6th June to promote the health, wellbeing and educational benefits of gardening. This year, Peppa Pig, and her friends are sharing their top tips for having fun in the great outdoors, whilst at the same time raising money for Save the Children to help children around the world grow up healthy and happy.
A brand-new Peppa Pig themed activity booklet has been created, which is jam-packed with fun and creative ways for children to explore the world around them and discover the magic of gardening.
As well as encouraging children to explore and enjoy nature, the Peppa Pig booklets are also raising much-needed funds for Save the Children. Since the start of the coronavirus pandemic, millions of children have fallen behind with their learning and missed out on playing with others which is vital for their mental, social and emotional development. The money raised by National Children's Gardening Week will help ensure that all children have the opportunity to learn, play and flourish, so they can grow up to be who they want to be.
The limited-edition activity packs will be available to collect from participating garden retailers during National Children's Gardening Week, with a suggested donation of £1 going to Save the Children. To find out more and where your nearest participating garden centre is, please visit: www.childrensgardeningweek.co.uk/peppapig/
To donate to Save the Children, please go to www.justgiving.com/campaign/nationalchildrensgardeningweek2021
Join in and encourage your little ones to get creative, have fun and explore the world around them!