More Information
X - CLOSE
Blackmoor Nursery is one of very few Nurseries in the UK offering gardeners the opportunity to buy Rhubarb crowns direct from our Nursery.
Establishing the Rhubarb Bed. A new rhubarb bed is best raised from divisions planted out in November, although it can be set out as late as March. Old crowns should be split, using a spade, into wedge shaped pieces with two or three buds on the outer edge, the inner part can usually be pared away with a knife (although old crowns are often hollow). Many growers, especially older ones, say that you should always leave the crowns on the surface to expose them to a hard frost before splitting them. Rhubarb is not fussy as to soil but should be planted in slightly raised beds if the soil is very heavy. It does however need an open site, as it will not tolerate shade. Prepare the soil carefully by digging to two spits (spade depths), the roots go deep, and work in plenty of farmyard manure or compost as you go.
All orders are despatched in one delivery. If your order contains both bare root and container grown plants then we can only despatch when all plants are ready.
In choosing a site remember that the leaves are heavy and reach at least 2 feet (60 cm) all round the crown. Set the divisions 21/2-3 ft (75-90 cm) apart with the buds at or just below the surface. It is strongly recommended that you do not gather any sticks in the first year of a new rhubarb bed. The first good crop will come in the second or third year following planting.
Prior to planting eliminate all perennial weeds. If the soil is acid mix in lime, add organic matter such as compost or manure to light sandy soils. On heavier soils, which are poorly drained, planting on raised beds is beneficial. The incorporation of sand is also helpful. Before planting dig in a handful of fertiliser such as 'Growmore' also a light sprinkling of Magnesium Sulphate (Epsom Salts) to each planting position.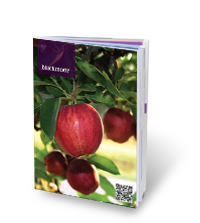 Collection - If you would like to collect your trees then use this option. Note the collection is from the Wholesale Nursery office between Monday-Friday only. Please allow 1 working days for your order to be processed prior to collection date.
We are not a Garden Centre or retail Nursery. Orders can be placed via our website and the collection option can be selected at the checkout. Your order will then be ready for you to collect during our normal opening hours which are Monday-Friday 07.30-16.30. Our plants are grown in fields that can be 2 miles away from our office so it is not possible to just turn up and select your own trees.
Delivery Charges - The delivery charge is worked out from the weight and the size of the plant. We have several rates that apply to UK mainland addresses. The lower postal rates range from £2.80 - £5.70, will be applied to smaller orders of the lighter plants like currants, raspberries, gooseberries, blackberries, asparagus and strawberries although larger orders will go into the £10.00 rate. A higher rate of £18.00 - £32.00 will be charged for deliveries to European Countries and GY KW IV AB PH KW HS ZE IM BT DD JE PO30 PO31 PO32 PO33 PO34 PO35 PO36 PO37 PO38 PO39 PO40 PO41 Postcodes. Once you have put together your order the delivery charge will show before payment. All orders are despatched in one delivery.
To take advantage of a promotional code or gift voucher this must be entered into the redeem code box at the checkout. Discounts cannot be given once an order is completed and any codes have not been used.
Top rated / best sellers


Rhubarb Crowns
Rhubarb Crowns for sale. There can be few gardens without a clump or two of rhubarb, often tucked away in a corner and seldom giving of its best. Yet rhubarb is a crop that amply repays with little care and attention.