Summer Raspberry Black Jewel - Has unique colour like no other Raspberry, almost purple-black fruits which have a special perfumed taste and blush-white canes which make it stand out from all other varieties. It is tolerant to phytophthora and fruits on last year's canes.
Summer Raspberry Sugana - A stunning new exclusive variety to Blackmoor. The major attraction to this variety is it produces two harvests in the same year. It will crop on the new season's growth August-October, but unlike other varieties, you should leave these stems to re-crop the following June, whilst training the new stems in for the following autumn's crop. Stunning large fruits and strong growth. This variety is also tolerant to phytophthora.
Autumn Raspberry Little Sweet Sister® - Compact growing (about 80 cm), thornless autumn raspberry, ideal for growing in pots. Little Sweet Sister® starts to bear fruit – once established in the pot or garden around 3 weeks before Autumn Bliss. In contrast to the compact sister variety Little Red Princess, which ripens 5 to 6 weeks later. The fruits are medium-sized with a beautiful, dark red colour. Cut back all canes to ground level each Winter.
Autumn Raspberry Little Red Princess® - After years of breeding, the dream is now a reality. A thornless, compact autumn raspberry. Little Red Princess will grow to between 60 and 100 cm high and bear fruit on 1-year old canes from August - September. Growing Raspberries has never been easier with this new variety. Cut back all canes to ground level each Winter.
Most suburban situations provide good pollen due to the close proximity of other gardens. It is not always necessary to have pollinators if the bees and other pollinating insects are generous with their visits. If you have no other Apple tree close by then select two varieties in the same group or the adjoining group ie group 2 and 4 will pollinate group 3 as will any others in group 3. Some varieties are self fertile.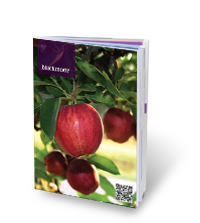 Collection - If you would like to collect your trees then use this option. Note the collection is from the Wholesale Nursery office between Monday-Friday only. Please allow 1 working days for your order to be processed prior to collection date.
We are not a Garden Centre or retail Nursery. Orders can be placed via our website and the collection option can be selected at the checkout. Your order will then be ready for you to collect during our normal opening hours which are Monday-Friday 07.30-16.30. Our plants are grown in fields that can be 2 miles away from our office so it is not possible to just turn up and select your own trees.
Delivery Charges - The delivery charge is worked out from the weight and the size of the plant. We have several rates that apply to UK mainland addresses. A delivery charge of £8.00 is for all single tree orders. £10.00 if more than one tree except in the case of the Espalier and Fan trained trees where this charge is a maximum of £40.00. The lower postal rates range from £2.50 - £5.50, will be applied to smaller orders of the lighter plants like currants, raspberries, gooseberries, blackberries, asparagus and strawberries although larger orders will go into the £10.00 rate. Once you have put together your order the delivery charge will show before payment. All orders are dispatched in one delivery.
Delivery times - Orders placed up to Tuesday are dispatched the same week. Orders placed after Tuesday are dispatched the following week. You can add to your order at any time. If you wish to add to your order then please email us and we shall send you a ref code that can be used for free shipping. We shall let you know when your order is being shipped via email. If you change your email address at any time please change your details on your account.
Top rated / best sellers