All orders are despatched in one delivery. If your order contains both bare root and container grown plants then we can only despatch when all plants are ready.
Any Bare Root Items - Availability means Available for supply from Nov to May.
Any Container grown items - Availability means Available for supply now.
Bare Root = Field grown Nectarine fruit trees that have been freshly lifted and supplied with no soil around the roots. Only available during the dormant period November-April
10 Litre = Container grown and can be planted all year round. The size refers to the number of litres of compost that the container holds.
1 Year Maiden = A one year old tree and the size depends on the variety but in general they will be 125cm in height and will have some side branches.
2 Year Bush = A two year old tree that has been pruned back in the first winter to form a bush shape. Generally trees will be 150-175cm in height with multiple side branches.
If grown as a fan trained tree against a south facing wall, they will certainly produce a large crop of delicious fruit in many areas. The early spring blossom is also something to be very much admired and enjoyed.
Best grown against a south facing wall or inside a greenhouse. Hand pollination is recommended because of the early flowering season. Protect from winter rain fall to control Peach leaf curl. New Varieties that are much improved on Lord Napier and Pineapple are Fantasia and Flavour Top.
The trees prefer a deep fertile soil, that retains moisture in the dryer months, yet remains well drained through winter. Supplied as fruiting size young trees at around 150cms tall.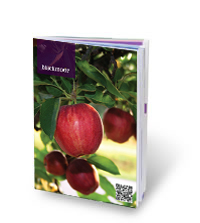 Collection - If you would like to collect your trees then use this option. Note the collection is from the Wholesale Nursery office between Monday-Friday only. Please allow 1 working days for your order to be processed prior to collection date.
We are not a Garden Centre or retail Nursery. Orders can be placed via our website and the collection option can be selected at the checkout. Your order will then be ready for you to collect during our normal opening hours which are Monday-Friday 07.30-16.30. Our plants are grown in fields that can be 2 miles away from our office so it is not possible to just turn up and select your own trees.
Delivery Charges - The delivery charge is worked out from the weight and the size of the plant. We have several rates that apply to UK mainland addresses. A delivery charge of £8.50 is for all single tree orders. £10.00 if more than one tree except in the case of the Espalier and Fan trained trees where this charge is a maximum of £40.00. Once you have put together your order the delivery charge will show before payment. All orders are despatched in one delivery.
To take advantage of a promotional code or gift voucher this must be entered into the redeem code box at the checkout. Discounts cannot be given once an order is completed and any codes have not been used.
Honey Kist®
Nectarine Fruit Trees | Genus Prunus | Prunus persica var. nectarina
Honey Kist® - A regular cropping large and sweet flavoured nectarine which has shown good acceptance from the commercial growers. In trials it has shown to have some level of resistance to Peach leaf curl although it is not immune.
Loyalty Reward Points. Save money as you grow with Blackmoor!
Receive 2% Reward Points for products purchased.
Receive Reward Points for writing a review and/or sharing this product.
| Rootstock | Description | Price | Availability | QTY |
| --- | --- | --- | --- | --- |
Nice sturdy looking tree delivered today. Extremely well packed.
Extremely healthy and well formed tree. Fruit bud already, blackmoor is the go to nursery.
I come back to Blackmoors time and time again because the fruit stock is second to none; the customer service is excellent; the packaging is sturdy; despatch is swift ie a few days rather than weeks. Again, this Honey Kist I have just received is one fine specimen. Thankyou so much everyone at Blackmoors. I love my tree!
Ordered late January 2014 and planted in a good sized container on delivery, this lovely specimen is covered in fat buds ready to burst once the warmth of the spring sun arrives. I've just sprayed with Bordeaux mixture to help combat leaf curl and look forward to trying the first fruits in the future.
Picked my first fruits from the tree I purchased from you in Autumn 2012 Very pleased with the favour and the quality of the fruits. The tree did have some peach leaf curl earlier in the growing season. I picked these leaves off and the tree soon grew through with no problems.