All orders are despatched in one delivery. If your order contains both bare root and container grown plants then we can only despatch when all plants are ready.
Any Bare Root Pear fruit trees - Availability means available for supply from Nov to April.
Any Container grown Pear fruit trees - Availability means available for supply now.
Rootstocks come in 5 sizes (2 for Pear trees) see the chart below, all of our fruit trees are labelled using these codes.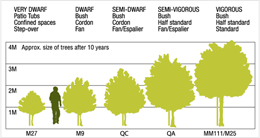 Click to enlarge
QC Dwarfing - 2.5-2.75 metres
QA Semi Dwarfing - 3 metres
Bare Root = Field grown trees that have been freshly lifted and supplied with no soil around the roots. Only available during the dormant period November-April.

10 Litre = Container grown and can be planted all year round. The size refers to the number of litres of compost that the container holds.
1 Year Maiden = A one year old tree and the size depends on the variety but in general they will be around 100cm in height and mainly just whips.
2 Year Bush = A two year old tree that has been pruned back in the first winter to form a bush shape. Generally trees will be 150-175cm in height with multiple side branches.
Pollination Made Simple
Most suburban situations provide good pollen due to the close proximity of other gardens. It is not always necessary to have pollinators if the bees and other pollinating insects are generous with their visits. If you have no other Pear tree close by then select two varieties in the same group or the adjoining group ie group B and D will pollinate group C as will any others in group C. Some varieties are self fertile.
Pears need a location with good circulation where the ground is slightly elevated and sloping. This is because the trees bloom early and the flowers may be damaged in the spring by frosty air, which settles in low-lying areas. Pears should be grown in heavier soil types such as clayey loam with porous subsoil, or medium or sandy loam.
Pear trees will not survive on ground that is saturated with water.
Collection - If you would like to collect your trees then use this option. Note the collection is from the Wholesale Nursery office between Monday-Friday only. Please allow 1 working days for your order to be processed prior to collection date.
We are not a Garden Centre or retail Nursery. Orders can be placed via our website and the collection option can be selected at the checkout. Your order will then be ready for you to collect during our normal opening hours which are Monday-Friday 07.30-16.30. Our plants are grown in fields that can be 2 miles away from our office so it is not possible to just turn up and select your own trees.
Delivery Charges - The delivery charge is worked out from the weight and the size of the plant. We have several rates that apply to UK mainland addresses. A delivery charge of £8.50 is for all single tree orders. £10.00 if more than one tree except in the case of the Espalier Fans and Step Over trained trees where this charge is a maximum of £40.00.
To take advantage of a promotional code or gift voucher this must be entered into the redeem code box at the checkout. Discounts cannot be given once an order is completed and any codes have not been used.
Little Sweety (Dwarf)
Pear Fruit Trees | Genus Pyrus | communis
Dwarf Pear Little Sweety - This Pear variety was christened in England - on the proposal from the readers of the Sun newspaper. Well, the name may not be very original, but it pretty much describes the properties of this green Pear variety that has the best quality of all the known compact pear varieties.
It will grow well in any soil, and are extremely fruitful and only grow to around 150cm high in 20 years. This variety is also perfect for growing in a large container (40-50cm) on the patio.
The fruits are striking green, turn yellow only when overripe. Small to medium in size.
They are ready to be picked around mid-September. After 3-4 days of warm storage, they are a melting enjoyment until the end of December. If you leave them hanging on the tree, they have a melting texture from mid to late October.
Loyalty Reward Points. Save money as you grow with Blackmoor!
Receive 2% Reward Points for products purchased.
Receive Reward Points for writing a review and/or sharing this product.
| Size | Description | Price | Availability | QTY |
| --- | --- | --- | --- | --- |
30 Mar 17 | Zabeena Pandian
Good service. Waiting for it to grow.
Good looking tree collected today. Looking forward to seeing it perform. Great service as always.
Thank you for quick delivery it is all planted and looking good