More Information
X - CLOSE
Blackmoor Nursery is one of very few Nurseries in the UK offering gardeners the opportunity to buy Gooseberry plants online.
All orders are despatched in one delivery. If your order contains both bare root and container grown plants then we can only despatch when all plants are ready.
Any Bare Root Items - Availability means Available for supply from Nov to May.
Any Container grown items - Availabity means Available for supply now.
Bare Root = Field grown plants that have been freshly lifted and supplied with no soil around the roots. Only available during the dormant period November-April
3 Litre = Container grown and can be planted all year round. The size refers to the number of litres of compost that the container holds.
2 Year Bush = A two year old plant that has been pruned back in the first winter to form a bush shape. Generally plants will be 40-60cm in height with multiple side branches.
3-5 Branch = a two year old plant with 3-5 shoots. Ideal for growing as a bush shape or training into a cordon or Fan shape.
90cm Half Standard = The fruiting variety is grafted onto the stem at 90 cm above the ground level. Will require supporting with a stake.
Cropping in June to July. Fruit can be used for jam and pies.
The varieties that we grow replace a lot of the older varieties that suffered badly with American Gooseberry mildew.
The varieties we stock all have good resistance to mildew and the red variety Pax is virtually spineless.
Plant bushes 1.5 metres apart. An ideal fruit for the small garden.
Usually grown in the form of a small bush, they can be trained to any shape and are especially recommended for pot culture.
Gooseberry bushes are easy to grow, produce a large amount of fruit for their size and will tolerate partial shade conditions. They are self fertile, so one bush can be grown on its own. Gooseberry bushes are also well able to withstand harsher conditions (both temperature and wind) than many other fruits. This makes them a good choice for cooler areas.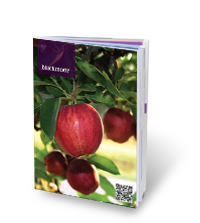 Collection - If you would like to collect your trees then use this option. Note the collection is from the Wholesale Nursery office between Monday-Friday only. Please allow 1 working days for your order to be processed prior to collection date.
We are not a Garden Centre or retail Nursery. Orders can be placed via our website and the collection option can be selected at the checkout. Your order will then be ready for you to collect during our normal opening hours which are Monday-Friday 07.30-16.30. Our plants are grown in fields that can be 2 miles away from our office so it is not possible to just turn up and select your own trees.
Delivery Charges - The delivery charge is worked out from the weight and the size of the plant. We have several rates that apply to UK mainland addresses. The lower postal rates range from £2.80 - £5.70, will be applied to smaller orders of the lighter plants like currants, raspberries, gooseberries, blackberries, asparagus and strawberries although larger orders will go into the £10.00 rate. A higher rate of £18.00 - £32.00 will be charged for deliveries to European Countries and GY KW IV AB PH KW HS ZE IM BT DD JE PO30 PO31 PO32 PO33 PO34 PO35 PO36 PO37 PO38 PO39 PO40 PO41 Postcodes. Once you have put together your order the delivery charge will show before payment. All orders are despatched in one delivery.
To take advantage of a promotional code or gift voucher this must be entered into the redeem code box at the checkout. Discounts cannot be given once an order is completed and any codes have not been used.
Invicta (AGM)
Gooseberry Bushes | Type Dessert/Culinary | Award of Garden Merit | Genus Ribes uva-crispa | Invicta Gooseberry Plants For Sale | Buy Online
Dessert/Culinary Gooseberry Invicta - The new star of the gooseberry world although it has been around for a number of years now. The reasons are immunity to American gooseberry mildew and very high yields. Invicta is a vigorous spreading bush. Invicta received the Award of Merit from the Royal Horticultural Society.
Invicta: Picking time late July.
Invicta: Planting distance 1.7 metres (5.5 feet) apart.
Invicta is a self fertile Gooseberry.
Loyalty Reward Points. Save money as you grow with Blackmoor!
Receive 2% Reward Points for products purchased.
Receive Reward Points for writing a review and/or sharing this product.
Size
Description
Price
Availability
QTY
2 Year Bush
3 Litre
£10.60
5 Available
Half Standard
Grafted 90cm Clear Stem - 3 Litre
£24.98
9 Available
I can't remember ever being so ecstatic when opening a delivery from a nursery. The gooseberry standards are fantastic. Much further along than I expected for the price, and they're in flower with a few berries set already. What a wonderful head start!
I ordered from blackmoor and the quality of the gooseberry bush i recieved was incredible. It was established, lovely green leaves and packed great too. Many thanks.
I ordered a standard gooseberry on 24th May as a present and I wish to let you know it arrived today in perfect order and am very, very happy with my purchase . It looks lovely and healthy and my daughter is going to be over the moon. Thank you very much and will definitely be recommending your company. Regards and stay safe Pauline
Wonderful crop of tasty firm berries on a vigorous bush. Vicious thorns however.
2 Oct 19 | Doug Littlejohns
This was my second order from Blackmoor. On both occasions I have been delighted and impressed not only by the quality of the plants but also by the obvious care with which they were packed. Henceforth Blackmoor will be my first port of call when shopping for fruit bearers
3 great gooseberry bushes. Normally I prefer to buy my plants from local places where I can chose what I get. But really I could not have chosen better myself. The plants arrived super quick, were very well packed and in excellent condition. No mean feat in the middle of a heatwave. Great communication and responsiveness and very fair pricing too. I will definitely be using Blackmoor again. Many thanks!
5 Sep 18 | Glenys Williams
Arrived early AM 24 hours from order. Beautifully and carefully packed in substantial heavy duty cardboard box. Bush is very healthy looking and happily awaiting its new home in our garden. Communications from point of order to despatch were excellent and I can thoroughly recommend Blackmoor.
My third order in a month! Four fruit bushes & a Sorbus Joseph Rock and again all seem healthy. Can certainly recommend.
My wife bought me this one, now potted on the patio and seems to have overwintered well.
My first order from Blackmoor has been delivered, including a 2 yr old bare root Gooseberry Invicta. I am thrilled with it. Difficult to get out of the box because of the spikiness but well packaged and very healthy looking. Looking forward to my first crop.
3 Feb 16 | Derick Hannant
Just received my 2 Invicta bushes. Perfect condition & will be planted in my allotment tomorrow. Very pleased & will happily order from Blackmoor again. Many thanks, Derick.
11 Jun 15 | jill shepherd
gooseberry bushes arrived safely this afternoon - superb condition and the fruit will be so much easier to pick as a standard than the normal gooseberry bush
Invicta gooseberry bush arrived on time .The gooseberry bush has a few green shoots appearing and is looking very healthy. Helen
9 Nov 14 | Christina Arnsby
Having used Blackmoor for the first time will be using them again. It is a pleasure to deal with such an efficient service. Goods arrived promptly and in good condition.
Looks great, looking forward to eating the gooseberries.
Really impressed with the quality of this item all ready growing new shoots, This is a good quality plant.
Healthy plants that are now showing their first leaves this spring. Excellent service from Blackmoor.
24 Oct 13 | Amanda Stewart
Blackmoor is an efficient friendly company. Gooseberry Invicta is a strong healthy plant, when it arrived.
17 Mar 13 | Nigel Barraclough
I bought a half standard Invicta gooseberry a few years ago and I get 12-14 pounds of fruit each year - an excellent plant.