More Information
X - CLOSE
Blackmoor Nursery is one of very few Nurseries in the UK offering gardeners the opportunity to buy Kiwi plants online.
All orders are despatched in one delivery. If your order contains both bare root and container grown plants then we can only despatch when all plants are ready.
Kiwis can be grown in the UK in sheltered, sunny locations where sweet grapes grow successfully.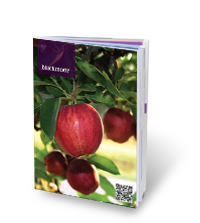 Collection - If you would like to collect your trees then use this option. Note the collection is from the Wholesale Nursery office between Monday-Friday only. Please allow 1 working days for your order to be processed prior to collection date.
We are not a Garden Centre or retail Nursery. Orders can be placed via our website and the collection option can be selected at the checkout. Your order will then be ready for you to collect during our normal opening hours which are Monday-Friday 07.30-16.30. Our plants are grown in fields that can be 2 miles away from our office so it is not possible to just turn up and select your own trees.
Delivery Charges - The delivery charge is worked out from the weight and the size of the plant. We have several rates that apply to UK mainland addresses. A delivery charge of £8.50 is for all single tree orders. £10.00 if more than one tree. Once you have put together your order the delivery charge will show before payment. All orders are despatched in one delivery.
To take advantage of a promotional code or gift voucher this must be entered into the redeem code box at the checkout. Discounts cannot be given once an order is completed and any codes have not been used.
Kiwi Solissimo
Kiwi Fruit Plants | Genus Actinidia | Kiwi Plants For Sale | Buy Online
Kiwi Solissimo plants for sale - Kiwis can be grown in the UK in sheltered, sunny locations where sweet grapes grow successfully. An improvement on Solo producing larger and sweeter fruits. Solissimo is the latest development of self-fertile Kiwi fruits, grown commercially, This gets round the problem most people have had, as you typically needed a male and female variety to get crops, and then some bees to pollinate too. That, however, is now in the past!
Loyalty Reward Points. Save money as you grow with Blackmoor!
Receive 2% Reward Points for products purchased.
Receive Reward Points for writing a review and/or sharing this product.
Size
Description
Price
Availability
QTY
7.5 Litre
80cm+ Tall
£22.00
4 Available
CARE GUIDE FOR KIWI'S Kiwis are vigorous, twining, deciduous vines, which are easy to grow and are capable of reaching 9 m (30ft) tall with nutritious and delicious fruit.
They need careful training and annual pruning in order to gain the best fruiting potential and should therefore be grown either on a pergola/arbor or on a trellis framework.
Fertiliser and water are the remaining ingredients needed to begin enjoying this exciting fruit. Site Selection: Kiwi prefer a location with full sun therefore a south or west facing wall is best but they can be grown in more open sites in milder areas. Avoid frost pockets. Allow a 4 metre (15 ft spacing). Kiwis grow well in both light and heavy soils, so long as they are well drained. On poorly drained soils, plant on sloping ground or make a raised bed so that excess water will drain away from the trunk. Fertile soil, high in organic matter is ideal for Kiwis. Applying well-rotted manure or compost will help build up organic matter and fertility. Planting: When ready to plant, dig a hole large enough to accommodate the roots without crowding. A general purpose compost can be mixed with the soil in the planting hole. Potted plants should be planted carefully so as not to disturb the roots. Root bound potted plants however should have their roots gently teased out and spread to the sides of the hole. Do not let the roots dry out. Plant at the same level as they were grown in their container. After planting, soak the planting area to remove air from around the roots. Young shoots and leaves can be injured by light frosts. During the first spring, protection from late frost is important and is helpful in future years. Cover the plant when frost threatens. Feeding And Watering: Kiwis should be given a balanced fertiliser high in nitrogen every spring. Spread the fertiliser across the planting area to ensure that you feed the Kiwi's surface root system. Apply fertiliser before summer to avoid frost tender wood in the autumn. As Kiwis are shallow rooted plants they need regular watering during the summer. Deep watering once or twice a week should be sufficient during periods of dry weather and avoid over watering. Reduce watering in the autumn to help harden plants for winter. Apply a mulch to a 1 metre (2-3 ft) circle around the plants with straw, compost or other organic materials will help conserve moisture and keep down weeds. Pruning And Training: Kiwis flower and bear fruit on wood that has grown from the previous season's growth, three to four years after planting. Select a vigorous shoot to grow rapidly to the top of the support. Gently tie this shoot to a stout post as it grows, and later remove other less vigorous shoots. When the vine reaches the top of the support, tip it back, and allow two buds near the top to grow and train them along the support wires or beams. Tie them loosely with heavy string or plastic tape. These cordons form the basic structure of your plant. By the end of the second season, you should have a good framework established. Before spring, cut back the two cordons to 8-20 buds. These buds should produce your first fruiting spurs. Train the end bud to extend the cordon further along the trellis and prune it back the following spring to 8-10 buds to produce more fruiting spurs. Once the cordons have reached the limits of the support regular pruning can begin. Dormant pruning of vines begins by heading back last years fruiting canes to 10-12 buds past the last fruit. After several years, small weak wood should be heavily pruned to force new vigorous canes. Twisted, tangled and broken canes should be removed as well as those crossing from one side of the plant to the other. Growth hanging to the ground should be pruned out or tied in/up. Excess fruiting spurs should be removed so that 8-12 inches separates each cane.