More Information
X - CLOSE
Fruit trees for sale | Mirabelle Trees.
Blackmoor Nursery is one of very few Nurseries in the UK offering gardeners the opportunity to buy Mirabelle fruit trees direct from our Nursery.
All orders are despatched in one delivery. If your order contains both bare root and container grown plants then we can only despatch when all plants are ready.
Any Bare Root Items - Availability means Available for supply from Nov to May.
Any Container grown items - Availability means Available for supply now.
Approximate tree height on St Julien A is 3-4 metres and mature height of trees on VVA1 rootstock is 2.5 metres.
Bare Root = Field grown trees that have been freshly lifted and supplied with no soil around the roots. Only available during the dormant period November-April
10 Litre = Container grown and can be planted all year round. The size refers to the number of litres of compost that the container holds.
1 Year Maiden = A one year old tree and the size depends on the variety but in general they will be 125cm in height and will have some side branches.
2 Year Bush = A two year old tree that has been pruned back in the first winter to form a bush shape. Generally trees will be 140-160cm in height with multiple side branches. This height guide is an end of summer height.
Choose a warm sheltered position and avoid badly drained soil and low-lying areas where spring frosts are likely to damage the blossom. Morello cherries and cooking plums are the only trees that will thrive on north facing walls.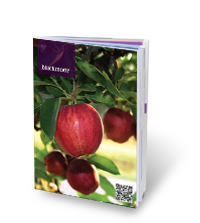 Collection - If you would like to collect your trees then use this option. Note the collection is from the Wholesale Nursery office between Monday-Friday only. Please allow 1 working days for your order to be processed prior to collection date.
We are not a Garden Centre or retail Nursery. Orders can be placed via our website and the collection option can be selected at the checkout. Your order will then be ready for you to collect during our normal opening hours which are Monday-Friday 07.30-16.30. Our plants are grown in fields that can be 2 miles away from our office so it is not possible to just turn up and select your own trees.
Delivery Charges - The delivery charge is worked out from the weight and the size of the plant. We have several rates that apply to UK mainland addresses. A delivery charge of £9.95 is for all single tree orders. £11.40 if more than one tree.
To take advantage of a promotional code or gift voucher this must be entered into the redeem code box at the checkout. Discounts cannot be given once an order is completed and any codes have not been used.
Mirabelle Ruby Columnar
Mirabelle Fruit Trees | Genus Prunus insititia | Mirabelle Ruby Fruit Trees For Sale | Buy Online
Mirabelle Ruby Columnar fruit trees - Ruby is the largest fruit of the mirabelles recorded. The fruit has exceptionally sweet taste; peach-like flavours and dark red flesh. The tree is unusually upright in habit in comparison to the wide spreading bushy habit of most varieties. History: Originated in Ukraine in 1995.
Size and shape of fruit trees for sale below.
Loyalty Reward Points. Save money as you grow with Blackmoor!
Receive 2% Reward Points for products purchased.
Receive Reward Points for writing a review and/or sharing this product.
Rootstock
Description
Price
Availability
QTY
St Julien A
2 Year Tree 10 Litre
£38.00
37 Available
I've had the tree from you for three years now. Healthy and growing. Last year we had three plums. Looking forward to this year's crops :D
The tree which arrived was very well packaged. The main stem was thick and pruning had given it a very nice shape - no damage in transit and excellent quality - thank you.
I bought a U cordon Mirabelle last year, together with various other dwarf fruit trees. The Mirabelle died in front of my eyes over the first couple of months and never came alive again during 2016. Everything I bought in 2015 and 2016 did well, so this has been a mystery and a disappointment to me.
A healthy looking tree, delivered in perfect condition. As always, good service from Blackmoors.
19 Sep 14 | Dawn Connolly
Well packaged plant arrived quickly. It's a neat and tidy plant in good condition.
What a cracker. Looking forward to eating these lush fruits.
Purchased in March 2009 as a one year maiden, this tree has developed into a well balanced goblet shape. A glorious coat of blossom in the spring develops through the season into a generous crop of small sweet fruits. Delivered in perfect condition as one would expect of Blackmoor, the mirabelle is an asset to any size of garden.
29 Jan 14 | Hakan Celikci
Would just like to say thank you for a perfect tree delivered to me earlier this week. I enjoyed looking through your website and found the ordering process very straight forward. Kept up to date by email right up to the day of the delivery. Delivery arrived perfectly packaged. I will be back again later in the Spring.