More Information
X - CLOSE
Goji Berry Seeds For Sale.
Wolfberry species are deciduous woody perennial plants, growing 1-3 m high.
These species produce a bright orange-red, berry 1-2 cm long How to use Berries are sweet and tasty - eat anytime as a healthy snack. Add the berries to juices and smoothies. Use dried berries for highest nutritional benefits. Brew them into a refreshing tea. Soak dried berries in water for a tonic. Add to cereals and muesli mixes.
How to grow As easy to grow as tomatoes! Grow in any well-drained soil in full sun. Drought tolerant & self-pollinating. Plants are hardy down to -15C! High yielding plants - 1kg in their second year!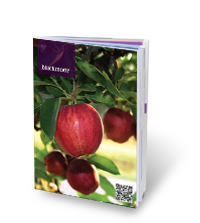 Collection - If you would like to collect your trees then use this option. Note the collection is from the Wholesale Nursery office between Monday-Friday only. Please allow 1 working days for your order to be processed prior to collection date.
We are not a Garden Centre or retail Nursery. Orders can be placed via our website and the collection option can be selected at the checkout. Your order will then be ready for you to collect during our normal opening hours which are Monday-Friday 07.30-16.30. Our plants are grown in fields that can be 2 miles away from our office so it is not possible to just turn up and select your own trees.
Delivery Charges - The delivery charge is worked out from the weight and the size of the plant. We have several rates that apply to UK mainland addresses. A delivery charge of £8.00 is for all single tree orders. £10.00 if more than one tree except in the case of the Espalier and Fan trained trees where this charge is a maximum of £40.00. The lower postal rates range from £2.80 - £5.70, will be applied to smaller orders of the lighter plants like currants, raspberries, gooseberries, blackberries, asparagus and strawberries although larger orders will go into the £10.00 rate. Once you have put together your order the delivery charge will show before payment. All orders are despatched in one delivery.
To take advantage of a promotional code or gift voucher this must be entered into the redeem code box at the checkout. Discounts cannot be given once an order is completed and any codes have not been used.
Top rated / best sellers
Goji Berry Seeds
Goji Berries - Devloped by James Wong -Treat it mean to keep it keen, the Goji berry needs no attention, pruning, feeding or care and in fact is at its most productive when under stress. We've selected this variety, specifically bred for its larger fruit yields in the UK. Highly productive. Delicious & foolproof to grow. Sky high in antioxidants. The eastern 'superfood' that's easier to grow than a stinging nettle. Tastes like: Malt, tomato, cranberry. The Goji berry is the latest so-called super-food name to trip off the tongue and into the mouths of health-food evangelists. Small, red, dried, and a bit like a savoury cranberry, the nutritionally-rich Goji berry fruit is making the leap from specialist store to supermarket.