More Information
X - CLOSE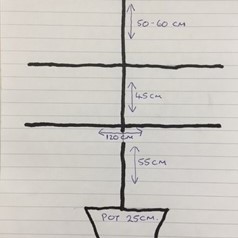 All trees can vary slightly in size slightly and we would not recommend putting up the wire supports until the trees arrive.
Pollination Made Simple.
Most suburban situations provide good pollen due to the close proximity of other gardens. It is not always necessary to have pollinators if the bees and other pollinating insects are generous with their visits. If you have no other Apple tree close by then select two varieties in the same group or the adjoining group ie group 2 and 4 will pollinate group 3 as will any others in group 3. Some varieties are self fertile.
Pollination Groups For Varieties Available.
Apples Group 2
Egremont Russet
Apples Group 3
Blenhieim Orange Bountiful Bramley Cox's Orange Pippin Fiesta Herefordshire Russet James Grieve Katy Kidd's Orange Queen Cox Red Falstaff Scrumptious Spartan Sunset Winter Gem
Apples Group 4
Ashmeads Kernel Braeburn Ellisons Orange Royal Gala.
Pears Group B Conference (Self Fertile)
Pears Group C Concorde
The ideal tree shape for planting against a fence or a wall. Step overs are can be used to edge borders.
Espalier Pruning in Winter/Spring Following Planting
1 Shorten main leader to third wire – if not reached do not prune.
2 Cut side branch leaders back by one third.
3 Shorten any side shoots (laterals) on side branches to 3-4 inches if not already done.
4 Spur back any shoots arising from central stem if not already done.
Espalier Summer Pruning Mid August
a) Shorten laterals on side branches to 4 inches.
b) Shorten any laterals (shoots growing from laterals) to 2-3 inches. Do not prune any shoots which are shorter than 8 inches.
c) Do not prune leaders
d) Tie in the main leader also the selected shoots for the third tier. Remove unwanted shoots from central stem, also tie in side branch leaders.
Successive Winter Pruning
a) Shorten main leader to appropriate wire.
b) Shorten side branch leaders by one third.
c) When main leader or branch leaders have extended as far as required cut back each year to point of origin.
d) If new growth has occurred after summer pruning cut back to a new bud.
Note – Apples and pears can be grown as 'fans, in this case prune as described for espaliers but there will not be a main central leader.
Delivery Charges - The delivery charge is worked out from the weight and the size of the plant. We have several rates that apply to UK mainland addresses. A delivery charge of £8.95 is for all single tree orders. £10.00 if more than one tree. £15.00 charge for larger orders except in the case of the Espalier Fans and Step Over trained trees where this charge is between 42.00 - £59.40 depending on the delivery location. Once you have put together your order the delivery charge will show before payment. All orders are despatched in one delivery.
Sorry but due to the high courier costs we are unable to offer any delivery service to any European Countries and the following postcodes. GY KW IV AB PH KW HS ZE IM BT DD JE PO30 PO31 PO32 PO33 PO34 PO35 PO36 PO37 PO38 PO39 PO40 PO41
Apple Step Overs
Trained Fruit Trees | Apple Step Over Fruit Trees For Sale
Apple Step Overs - Cultivated since Victorian times, they are basically one tier espaliers that are low enough to simply 'step over' where necessary. These are useful to define borders with. Their short stem and a horizontal branch look equally good in front of ornamental borders or vegetables. All trees are grown in 12 Litre containers.
Loyalty Reward Points. Save money as you grow with Blackmoor!
Receive 2% Reward Points for products purchased.
Receive Reward Points for writing a review and/or sharing this product.
Out Of Stock Until September
Description
Price
Availability
QTY