More Information
X - CLOSE
In UK conditions saskatoons are likely to grow to about 2m - 2.5m tall, with a similar spread, and will start bearing after 2-3 years. They are grown from seed on their own roots (not grafted). Fruit production on a mature bush is likely to be 2kg-4kg.
The key requirement for successful saskatoon fruit production is that they should be planted in a sheltered situation in full sun. This is not surprising, given the origins of this species in the intense sunshine of the western states of North America.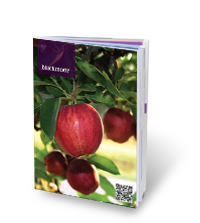 Collection - If you would like to collect your trees then use this option. Note the collection is from the Wholesale Nursery office between Monday-Friday only. Please allow 1 working days for your order to be processed prior to collection date.
We are not a Garden Centre or retail Nursery. Orders can be placed via our website and the collection option can be selected at the checkout. Your order will then be ready for you to collect during our normal opening hours which are Monday-Friday 07.30-16.30. Our plants are grown in fields that can be 2 miles away from our office so it is not possible to just turn up and select your own trees.
Delivery Charges - The delivery charge is worked out from the weight and the size of the plant. We have several rates that apply to UK mainland addresses. A delivery charge of £8.50 is for all single tree orders. £10.00 if more than one tree except in the case of the Espalier and Fan trained trees where this charge is a maximum of £40.00.
To take advantage of a promotional code or gift voucher this must be entered into the redeem code box at the checkout. Discounts cannot be given once an order is completed and any codes have not been used.
Top rated / best sellers
Juneberry
Saskatoons are often compared to blueberries, since the fruits look similar. However Saskatoons are not berries, in fact they are more closely related to crab-apples. They are also much easier to grow than blueberries. The fruits are quite similar in taste and appearance to blueberries though, and can be used for similar purposes. The fruits follow quickly after the blossom - hence the common name 'Juneberry' although in most parts of the UK the fruits are likely to ripen in July. Like cherries, they are attractive to birds, so it helps to net the fruit.
£0.00

Size
Bush - 7 Litre