Fruit trees for sale | Quince Fruit Trees.
All orders are despatched in one delivery. If your order contains both bare root and container grown plants then we can only despatch when all plants are ready.
Any Bare Root Quince fruit trees - Availability means available for supply from Nov to April.
Any Container grown Quince fruit trees -Availability means available for supply now.
The dwarf range will grow to approximately 1.25m-1.75m. This does depend on the growing conditions. If the are planted in containers then the smaller 1.25m will be around the eventual height. If grown in the soil then 1.75m will be the eventual height.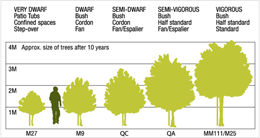 Click to enlarge
Bare Root = Field grown trees that have been freshly lifted and supplied with no soil around the roots. Only available during the dormant period November-April

7 or 10 Litre = Container grown and can be planted all year round. The size refers to the number of litres of compost that the container holds.

2 Year Bush = A two year old tree that has been pruned back in the first winter to form a bush shape. Generally trees will be 140-160cm in height with multiple side branches. This height guide is a end of summer height.
2 Year Half Standard - Has a clear stem of around 90cm before any of the branching starts.
For most fruits choose a warm sheltered position avoiding wet or shaded spots, although soft fruit will tolerate some shade. Avoid north walls except when planting blackberries which will crop successfully, albeit, a little later in the season. Crops are likely to be sparse in frosty situations. If birds are troublesome a fruit cage can be erected.
Collection - If you would like to collect your trees then use this option. Note the collection is from the Wholesale Nursery office between Monday-Friday only. Please allow 1 working days for your order to be processed prior to collection date.
We are not a Garden Centre or retail Nursery. Orders can be placed via our website and the collection option can be selected at the checkout. Your order will then be ready for you to collect during our normal opening hours which are Monday-Friday 07.30-16.30. Our plants are grown in fields that can be 2 miles away from our office so it is not possible to just turn up and select your own trees.
Delivery Charges - The delivery charge is worked out from the weight and the size of the plant. We have several rates that apply to UK mainland addresses. A delivery charge of £8.50 is for all single tree orders. £10.00 if more than one tree.
To take advantage of a promotional code or gift voucher this must be entered into the redeem code box at the checkout. Discounts cannot be given once an order is completed and any codes have not been used.
Dwarf Quince Leskovacz
Quince Fruit Trees
Dwarf Quince Leskovacz fruit trees - Highly productive variety from Serbia used for all culinary purposes including quince liqueur. Large pale green felted foliage producing large rounded shaped green/yellow quinces in October from very fragrant pale pink blossom. Self Fertile.
Available From September.
Size and shape of fruit trees for sale below.
Loyalty Reward Points. Save money as you grow with Blackmoor!
Receive 2% Reward Points for products purchased.
Receive Reward Points for writing a review and/or sharing this product.
| Size | Description | Price | Availability | QTY |
| --- | --- | --- | --- | --- |
| Dwarf | 2 Year Bush - 7 Litre | £32.00 | 72 Available | |
18 Oct 18 | Christopher Iles
Three years after planting, and we have 47 quinces on the tree! The blossom smells great too.
Have just received delivery of dwarf quince Lescovacz - Order placed on Monday received Wednesday 11:30hrs,very impressed with packaging, Tree of quality as requested and would definitely recommend your excellent service and supply in future. Thank you again
Received my Quince tree within 2 days. Packaged very well and delighted with the tree.Exactly as described on Website. Would recommend to anyone. Thank you.
An excellent shaped tree in perfect condition. Planted on day of arrival. Looking forward to seeing the blossom in the spring.
Healthy plant. Good size already. Arrived quickly and requested day of week and well packaged
This quince tree was delivered on the day it was promised, beautifully packaged. Longing for Spring now when it will begin to shoot.
Bought this quice and planted in a large tub on patio. This autumn I picked 2kg fruit and made quince paste ( membrillo)....delicious with cheese! Has beautiful pink blossom too in spring.
Just received my Dwarf Quince.It 's in perfect order, well packed and looks very healthy. Excellant service as usual!
Dwarf quince small but perfectly formed. Looking forward to it growing to fruiting size.
I come back to Blackmoors time and time again because the fruit stock is second to none; the customer service is excellent; the packaging is sturdy; despatch is swift ie a few days rather than weeks. Again, this Dwarf Quince I have just received is one fine specimen. Thankyou so much everyone at Blackmoors. I love my tree!
Ordered my Quince tree during the evening of the 4th November and it was delivered on the morning of the 6th November! I am delighted with the service and the product. I will certainly use Blackmoor in the future.
17 Jul 14 | Lubs Cvetkovic
I have just bought one of these and was so impressed with the quality a really healthy plant in superb condition. My family are from the region of Serbia where these are grown and looking at it evoked some wonderful childhood memories, I can't wait for it to start bearing fruit next year, when I will update this review.
22 Apr 14 | Cathy Corbishley Michel
We bought this tree a year ago and it looks splendid in spring with a lot of bushy growth and flowers in early April. Hoping for some fruit this year.
10 Apr 14 | Maggie Perkins
A really fine tree arrived yesterday. The quince looks in beautiful condition and the whole experience of buying from you was amazingly simple and efficient. Thank you.
My Dwarf Quince arrived in excellent condition, along with other trees, within a few days of ordering. I was kept thoroughly informed of the progress of my order, which was refreshing in an industry in which so many suppliers get marketing and customer communication so wrong. I will definitely be ordering again and wholeheartedly recommend Blackmoor.