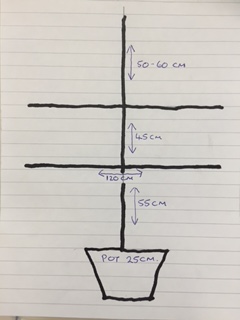 All trees can vary slightly in size slightly and we would not recommend putting up the wire supports until the trees arrive.
Espalier Pruning in Winter/Spring Following Planting
1 Shorten main leader to third wire – if not reached do not prune.
2 Cut side branch leaders back by one third.
3 Shorten any side shoots (laterals) on side branches to 3-4 inches if not already done.
4 Spur back any shoots arising from central stem if not already done.
Espalier Summer Pruning Mid August
a) Shorten laterals on side branches to 4 inches.
b) Shorten any laterals (shoots growing from laterals) to 2-3 inches. Do not prune any shoots which are shorter than 8 inches.
c) Do not prune leaders
d) Tie in the main leader also the selected shoots for the third tier. Remove unwanted shoots from central stem, also tie in side branch leaders.
Successive Winter Pruning
a) Shorten main leader to appropriate wire.
b) Shorten side branch leaders by one third.
c) When main leader or branch leaders have extended as far as required cut back each year to point of origin.
d) If new growth has occurred after summer pruning cut back to a new bud.
Note – Apples and pears can be grown as 'fans, in this case prune as described for espaliers but there will not be a main central leader.
The ideal tree shape for planting against a fence or a wall. Step overs are can be used to edge borders.
Due to the size and shape of the Espaliers and Fan trained fruit there is a £40.00 maximum delivery charge that applies to any orders including these trees. Plants have to be despatched with a pallet courier and are only available for a UK mainland delivery. The Espaliers and Fans are approximately 1.5 metres wide and 1.65 metres in height.
Sorry but due to the high courier costs we are unable to offer any delivery service to any European Countries and the following postcodes. GY KW IV AB PH KW HS ZE IM BT DD JE PO30 PO31 PO32 PO33 PO34 PO35 PO36 PO37 PO38 PO39 PO40 PO41
Apple 2 Tier Espalier (Cooking)
Trained Fruit Trees | 2 Tier Espaliers
The term espalier refers to the way fruit trees are trained to grow against a wall. It makes the tree easier to prune and the fruit easier to pick. This decorative method was often used in traditional walled kitchen gardens and is perfectly suited to growing fruit in the smaller garden. The advantage is that you can also buy a ready-trained tree. Perfect for the small garden, an espalier tree has branches trained horizontally on either side of the stem to make a compact, but productive tree.
Planting Guide - MM106 is most suitable for small apple trees with three or four tiers but M26 can also be used if space is limited.
Trees should be planted 3.5m-6m (12-20ft) apart, according to their vigour.
Loyalty Reward Points. Save money as you grow with Blackmoor!
Receive 2% Reward Points for products purchased.
Receive Reward Points for writing a review and/or sharing this product.
| Size | Description | Price | Availability | QTY |
| --- | --- | --- | --- | --- |
| 2 Tier Espalier | Bramley M26 - 15 Litre | £56.00 | 16 Available | |