More Information
X - CLOSE
Blackmoor Nursery is one of very few Nurseries in the UK offering gardeners the opportunity to buy Cordon fruit trees direct from our Nursery.
All orders are despatched in one delivery. If your order contains both bare root and container grown plants then we can only despatch when all plants are ready.
Cordon fruit trees can be planted at 2-3 feet apart.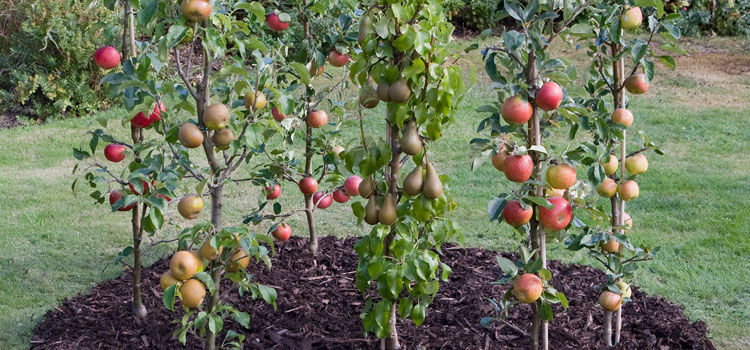 Bare Root = Field grown trees that have been freshly lifted and supplied with no soil around the roots. Only available during the dormant period November-May.
2 Year Cordon = A two year old tree that has been pruned back in the first winter to form a Cordon shape. Generally trees will be 150cm in height with multiple side branches that have been pruned back.
Most suburban situations provide good pollen due to the close proximity of other gardens. It is not always necessary to have pollinators if the bees and other pollinating insects are generous with their visits. If you have no other Apple tree close by then select two varieties in the same group or the adjoining group ie group 2 and 4 will pollinate group 3 as will any others in group 3. Some varieties are self fertile.
Collection - If you would like to collect your trees then use this option. Note the collection is from the Wholesale Nursery office between Monday-Friday only. Please allow 1 working days for your order to be processed prior to collection date.
We are not a Garden Centre or retail Nursery. Orders can be placed via our website and the collection option can be selected at the checkout. Your order will then be ready for you to collect during our normal opening hours which are Monday-Friday 07.30-16.30. Our plants are grown in fields that can be 2 miles away from our office so it is not possible to just turn up and select your own trees.
Delivery Charges - The delivery charge is worked out from the weight and the size of the plant. We have several rates that apply to UK mainland addresses. A delivery charge of £9.95 is for all single tree orders. £11.40 if more than one tree except in the case of the Espalier and Fan trained trees where this charge is a maximum of £40.00. The lower postal rates range from £2.80 - £5.70, will be applied to smaller orders of the lighter plants like currants, raspberries, gooseberries, blackberries, asparagus and strawberries although larger orders will go into the £10.00 rate. Once you have put together your order the delivery charge will show before payment. All orders are despatched in one delivery.
To take advantage of a promotional code or gift voucher this must be entered into the redeem code box at the checkout. Discounts cannot be given once an order is completed and any codes have not been used.
Apple - Cooking
Cordon Fruit Trees | Genus Malus | Cooking Apple Cordon Fruit Trees For Sale | Buy Online
Cordon Apple Trees For Sale - Apples and pears have traditionally been grown as inclined cordons for hundreds of years. The latest idea is to grow vertical cordons to save space in the garden. These trees are also known as upright Cordon fruit trees or super columns. Plant at 2-3 feet apart. All of our cordon apple trees are grown on the M9 rootstock.
Loyalty Reward Points. Save money as you grow with Blackmoor!
Receive 2% Reward Points for products purchased.
Receive Reward Points for writing a review and/or sharing this product.
Out Of Stock
Description
Price
Availability
QTY
Cordon Fruit Tree Growing Tips.
Cordons allow you to grow a useful amount of fruit in even a small garden. Cordon training is suitable for all apples and pears that bear fruit on short sideshoots (spur-bearing).
How to plant my Cordon apple tree - Our How To Growing Tips section on our website has a video that will show you how.
When is the best time to plant a Cordon fruit tree - Container grown apple trees can be planted at any time of the year. Bare Root apple trees can only be planted between the months of November - April.
Choose an open, sheltered position, avoiding frost-prone sites, if possible. Soils should be well-drained, moisture-retentive and not prone to waterlogging. The best time for planting cordons is in winter. Use one-, two- or three-year-old cordons. When buying cordons, you will have a choice of rootstocks. Use M26 rootstock (dwarfing) or M9 rootstock (very dwarfing) for apples where the soil is fertile.
Cordons need a permanent support system made up of three horizontal wires 60cm (2ft) apart with the lowest wire 30cm (1ft) from the ground. If planting against a wall or fence, fix the wire using straining eye bolts that will let the wire be fixed not less than 10cm (4in) away from the structure to allow for air circulation. Keep the wire taught with straining bolts available from fencing suppliers. Use a sturdy 2.5mm, gage 12 galvanised wire. If using posts, the posts should protrude 1.8m (6ft) from the ground with about 60cm (2ft) below ground, spaced 2.2-3.5m (7-12ft) apart. The end post should be strutted. Fix bamboo canes diagonally to the wires for the trees to be trained on. Plant trees at an angle of 45 degrees. If planting more than one cordon, space at 60-90cm (2-3ft) apart. The wider spacing within the row is for infertile, shallow or sandy soils. Tie the cordon to the diagonal bamboo cane fixed to the wire support with a soft string. Cordons can be allowed to reach a height of about 1.5-2m (5-6½ft) so take that into consideration when planting. After planting, cut back all laterals (side shoots) longer than 10cm (4in) to three buds, leaving the leader and any short laterals unpruned.
How do I prune a fruit tree - Summer pruning is carried out in August, or in areas where growth is strong, such as wet parts of the country, delay summer pruning until September when a large terminal (end) bud has formed at branch tips and the tree has stopped growing. Look for sideshoots over 22cm (9in) long (length of a pair of secateurs), which grew earlier in the summer directly from the main stem, and cut them back to three leaves beyond the basal cluster (cluster of leaves at the base of the current season's growth). Those stems that grew from existing sideshoots or spurs can be pruned harder - to just one leaf beyond the basal cluster. Leave shoots less than 15-22cm (6-9in) long until mid-September and then shorten to one leaf beyond the cluster of leaves at the base. Prune any growth that forms after summer pruning in September (or October if pruning later). Prune to one leaf beyond the last cut. Tie the leading shoot ('leader') in to the support until it reaches the required length. Thereafter, prune it back and treat subsequent growth as for other laterals. When the cordons reach the top wire they may be lowered from 45 degrees to not less than 35 degrees (as there is less risk of the stem breaking) in early spring. This will increase the length of stem, and so the amount of fruit produced. Again, once the cordon has reached the top of the support, prune it back in late summer and treat subsequent growth as for other laterals Winter pruning oblique cordons. Neither the leader nor side shoots are normally pruned in the winter, except where the tree has grown a lot since summer pruning or you need to renovate a neglected tree. Over time the spur system can become over-long or complicated. Remove older and unproductive sections of the spurs. Occasionally rejuvenate the spur system by pruning back to a stub 3-5cm (1-2in) of the main stem cutting above a well-placed dormant bud. Our Care Guide explains the basic principles of fruit tree pruning.
Blackmoor is one of very few Nurseries in the UK offering gardeners the opportunity to buy Cordon fruit trees direct from our Nursery. We have one of the largest range of fruit trees available for sale online.