More Information
X - CLOSE
Fruit trees for sale | Prunus Trees.
Blackmoor Nursery is one of very few Nurseries in the UK offering gardeners the opportunity to buy Prunus Flowering Cherry trees direct from our Nursery.
All orders are despatched in one delivery. If your order contains both bare root and container grown plants then we can only despatch when all plants are ready.
Bare Root = Field grown trees that have been freshly lifted and supplied with no soil around the roots. Only available during the dormant period November-May.
10 Litre = Container grown and can be planted all year round. The size refers to the number of litres of compost that the container holds.
1 Year Maiden = A one year old tree and the size depends on the variety but in general they will be 125cm in height and will have some side branches.
2 Year = A two year old tree that has been pruned back in the first winter to form a bush shape. Generally trees will be 140-160cm in height with multiple side branches. This height guide is an end of summer height.
Prior to planting eliminate all perennial weeds. If the soil is acid mix in lime, add organic matter such as compost or manure to light sandy soils. On heavier soils, which are poorly drained, planting on raised beds is beneficial. The incorporation of sand is also helpful. Before planting dig in a handful of fertiliser such as 'Growmore' also a light sprinkling of Magnesium Sulphate (Epsom Salts) to each planting position.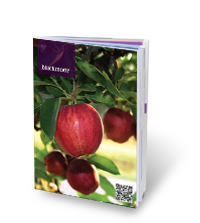 Collection - If you would like to collect your trees then use this option. Note the collection is from the Wholesale Nursery office between Monday-Friday only. Please allow 1 working days for your order to be processed prior to collection date.
We are not a Garden Centre or retail Nursery. Orders can be placed via our website and the collection option can be selected at the checkout. Your order will then be ready for you to collect during our normal opening hours which are Monday-Friday 07.30-16.30. Our plants are grown in fields that can be 2 miles away from our office so it is not possible to just turn up and select your own trees.
Delivery Charges - The delivery charge is worked out from the weight and the size of the plant. We have several rates that apply to UK mainland addresses. A delivery charge of £9.95 is for all single tree orders. £11.40 if more than one tree.
Delivery times - Orders are despatched to you within 7 days unless there is a delay caused by the weather conditions. We shall inform you via email of the delivery day as soon as it is known closer to the time. You can add to your order at any time. If you wish to add to your order then please email us and we shall send you a ref code that can be used for free shipping. We shall let you know when your order is being shipped via email. If you change your email address at any time please change your details on your account.
To take advantage of a promotional code or gift voucher this must be entered into the redeem code box at the checkout. Discounts cannot be given once an order is completed and any codes have not been used.
Pink Perfection (AGM)
Flowering Cherry Trees | Award of Garden Merit | Genus Prunus Pink Perfection | Flowering Cherry Trees For Sale | Buy Online
Prunus Pink Perfection flowering Cherry trees for sale - This charming Cherry has bright, double pink flowers which hang in drooping clusters from the branches. The leaves are a delicate bronze colour when young, before turning green and then a bright fiery red and orange in the autumn. A very striking cultivar. Tree height when mature 3-4 metres.
Loyalty Reward Points. Save money as you grow with Blackmoor!
Receive 2% Reward Points for products purchased.
Receive Reward Points for writing a review and/or sharing this product.
Rootstock
Description
Price
Availability
QTY
24 Jan 21 | Christine Munro
Received the pink perfection flowering cherry I ordered, good quality tree. Already pruned into a good shape. I can't wait for the tree to blossom in the spring. I will definitely be buying other trees and fruit bushes from you. Very good planting and growing guidance information.
I am so pleased I bought this Pink Perfection flowering cherry tree from Blackmoor. It arrived in superb condition and has grown on at an amazing rate this summer. I can't wait to see it in full bloom next spring.
7 Feb 19 | Linda Gillingham
I had forgotten what excellent customer service was like. BN reminded me. From talking to them on the phone to receipt of product, absolutely excellent. My pink perfection is superb and has had the seal of approval from my RHS qualified gardener who has rated it as top quality.
Excellent. I think the "running total" of items ordered, before we get to the checkout stage, is a really good idea!
Prunus Pink Perfection
Spring would be unthinkable without the spectacular blossom of ornamental flowering cherry trees! Cherry blossom is often thought suited only to large gardens, yet delightful early-flowering cherries will bloom profusely as compact bushes or small trees.