More Information
X - CLOSE
Fruit trees for sale | Crab Apple Trees | Malus
Blackmoor Nursery is one of very few Nurseries in the UK offering gardeners the opportunity to buy Malus Crab Apple fruit trees direct from our Nursery.
All orders are despatched in one delivery. If your order contains both bare root and container grown plants then we can only despatch when all plants are ready.
Any Bare Root fruit trees - Availability means available for supply from Nov to May.
Any Container grown fruit trees - Availability means available for supply now.
How tall will my Malus Crab Apple tree grow?
A guide to selection, rootstocks come in 5 sizes see the chart below, all of our trees are labelled using these codes. Our Crab Apples are grown on the MM106 rootstock.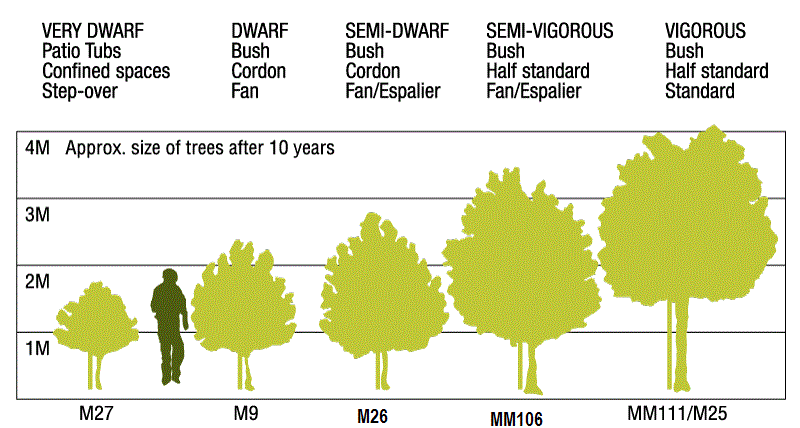 Click to enlarge
MM106
Semi vigorous, Approximate height 3-4 metres when mature.
Bare Root = Field grown trees that have been freshly lifted and supplied with no soil around the roots. Only available during the dormant period November-April
10 Litre = Container grown and can be planted all year round. The size refers to the number of litres of compost that the container holds.
1 Year Maiden = A one year old tree and the size depends on the variety but in general they will be 125cm in height and will have some side branches.
Most suburban situations provide good pollen due to the close proximity of other gardens. It is not always necessary to have pollinators if the bees and other pollinating insects are generous with their visits. If you have no other Apple tree close by then select two varieties in the same group or the adjoining group ie group 2 and 4 will pollinate group 3 as will any others in group 3. Some varieties are self fertile.
Collection - If you would like to collect your trees then use this option. Note the collection is from the Wholesale Nursery office between Monday-Friday only. Please allow 1 working days for your order to be processed prior to collection date.
We are not a Garden Centre or retail Nursery. Orders can be placed via our website and the collection option can be selected at the checkout. Your order will then be ready for you to collect during our normal opening hours which are Monday-Friday 07.30-16.30. Our plants are grown in fields that can be 2 miles away from our office so it is not possible to just turn up and select your own trees.
Delivery Charges - The delivery charge is worked out from the weight and the size of the plant. We have several rates that apply to UK mainland addresses. A delivery charge of £9.95 is for all single tree orders. £11.40 if more than one tree except in the case of the Espalier and Fan trained trees where this charge is a maximum of £40.00. The lower postal rates range from £2.80 - £5.70, will be applied to smaller orders of the lighter plants like currants, raspberries, gooseberries, blackberries, asparagus and strawberries although larger orders will go into the £10.00 rate. Once you have put together your order the delivery charge will show before payment. All orders are despatched in one delivery.
Delivery times - Orders are despatched to you within 7 days unless there is a delay caused by the weather conditions. We shall inform you via email of the delivery day as soon as it is known closer to the time. You can add to your order at any time. If you wish to add to your order then please email us and we shall send you a ref code that can be used for free shipping. We shall let you know when your order is being shipped via email. If you change your email address at any time please change your details on your account.
To take advantage of a promotional code or gift voucher this must be entered into the redeem code box at the checkout. Discounts cannot be given once an order is completed and any codes have not been used.
Golden Hornet
Crab Apple Trees | Genus Malus | Golden Hornet Crab Apple Trees For Sale | Buy Online
Golden Hornet Crab Apple - This charming Malus provides beautiful displays of seasonal colour. As springtime matures at the end of April, Golden Hornet erupts with brilliant white flowers that envelop the entire canopy. These are tinged with wonderful shades of water-washed pink and subtle lilac. A small upright tree producing bright yellow fruits in the autumn. One of the best fruiting crabs for general planting. Golden Hornet fruits are good for jellies. Golden Hornet is a very good variety for cross pollinating other Apple trees.
Loyalty Reward Points. Save money as you grow with Blackmoor!
Receive 2% Reward Points for products purchased.
Receive Reward Points for writing a review and/or sharing this product.
Out Of Stock
Description
Price
Availability
QTY
My Strong healthy Golden hornet crab apple arrived this morning in perfect condition and superbly wrapped as usual. I would highly recommend you to anyone looking for a reliable company.
I received my Malus Golden Hornet and Red Sentinal trees yesterday 8th June both individually packed together with supporting accessories in excellent condition and look forward to seeing them grow in our garden. Having had raspberry canes from you in the past (different email address) I fully recommend the quality of your products the ease of using your web site and the care taken in seeing the items are packed and delivered in good condition by your courier. Jack Hughes
I love receiving a crate of Blackmoor trees as I know they will always exceed my expectations. Today is no exception. Thank you very much for my great Golden Hornet!
A great choice for yellow crabs, doesn't last as long as the Red Ssentinel, probably late December, I've also got Comtesse de Paris but mine's too small to have fruited yet to compare. But Golden Hornet certainly delivers the fruit and all the way from the bottom of the tree up. Size of fruit is about a large Cherry.
Very healthy vigorous tree, full of fruit in it`s first year, recomended by blackmoors for it`s fruit and i`d definatly second that.
This is my third order - the first two orders were larger order and I found the site very clear and easy to use with plenty of information on each variety which allowed me to make informed choices on varieties suitable for growing this far north. Will be back again (and again !)