More Information
X - CLOSE
Blackmoor Nursery is one of very few Nurseries in the UK offering gardeners the opportunity to buy Raspberry canes direct from our Nursery.
All orders are despatched in one delivery. If your order contains both bare root and container grown plants then we can only despatch when all plants are ready.
Any Bare Root Items - Availability means Available for supply from early November to May.
Any Container grown items - Availability means Available for supply now.
All our Raspberry canes are ministry inspected.
Autumn fruiting varieties, i.e. Autumn Bliss, Polka and Joan J are completely cut to ground level during the winter.
Summer fruiting varieties, These fruit on the second year cane (normally darker than the one year cane)The second year cane is pruned back down to soil level in the winter after they have fruited leaving the one year old cane for next summers crop.
Plant the canes about 18" (45 cm) apart with 6 ft (1.8 m) between the rows. Avoid planting the young canes too deeply, a covering of 3" (7.5 cms) over the roots is ample. Cut the canes down to 2" (5 cms) above the soil immediately after planting (bare root canes only, Do not cut down the 1 litre potted canes). In the spring when the new shoots appear from beneath the soil the 2" stub should be cut away. The young canes are tied into a wire fence system for cropping the following season. Subsequently all canes which have fruited are cut out at ground level immediately after fruiting.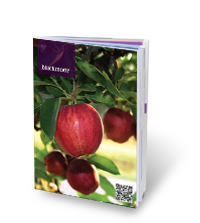 Collection - If you would like to collect your trees then use this option. Note the collection is from the Wholesale Nursery office between Monday-Friday only. Please allow 1 working days for your order to be processed prior to collection date.
We are not a Garden Centre or retail Nursery. Orders can be placed via our website and the collection option can be selected at the checkout. Your order will then be ready for you to collect during our normal opening hours which are Monday-Friday 07.30-16.30. Our plants are grown in fields that can be 2 miles away from our office so it is not possible to just turn up and select your own trees.
Delivery Charges - The delivery charge is worked out from the weight and the size of the plant. We have several rates that apply to UK mainland addresses. The lower postal rates range from £2.80 - £5.70, will be applied to smaller orders of the lighter plants like currants, raspberries, gooseberries, blackberries, asparagus and strawberries although larger orders will go into the £10.00 rate. A higher rate of £18.00 - £32.00 will be charged for deliveries to European Countries and GY KW IV AB PH KW HS ZE IM BT DD JE PO30 PO31 PO32 PO33 PO34 PO35 PO36 PO37 PO38 PO39 PO40 PO41 Postcodes. Once you have put together your order the delivery charge will show before payment. All orders are despatched in one delivery.
To take advantage of a promotional code or gift voucher this must be entered into the redeem code box at the checkout. Discounts cannot be given once an order is completed and any codes have not been used.
Polka (Autumn Fruiting)
Raspberry Canes | Type Autumn Fruiting | Award of Garden Merit | Genus Rubus idaeus Polka | Polka Raspberry Canes For Sale | Buy Online
Autumn Fruiting Raspberry Polka canes for sale - We believe this new variety will replace Autumn Bliss in time. Polka is well renowned for its fruit quality attributes. Its flavour can be described as clean and fruity, with a lovely aroma. Polka's yield is unquestionably high, which is aided by its early start.
Polka: Picking time August to late September or until the first frost.
Polka: Plant canes 3 inches deep and 18 inches apart.
Polka: Cut down all cane to ground level after fruiting every year.
Loyalty Reward Points. Save money as you grow with Blackmoor!
Receive 2% Reward Points for products purchased.
Receive Reward Points for writing a review and/or sharing this product.
Now Sold Out Until Autumn 22
Description
Price
Availability
QTY
Ordered and received in a week. 21/1/22 heeled in looking good.
2 Dec 19 | Aniket Sardana
Bought these canes at the beginning of the year. I temporarily put them all in a large pot as I wasn't going to have a bed ready for them until April. They all sprouted and were growing well, although they didn't like being separated and planted after growth had begun, so I lost quite a few. However, the ones that established produced fantastic raspberries from late summer. Excellent variety and top quality canes supplied, just make sure you don't plant them out too late.
17 Mar 19 | Just William Jersey
Recieved today very nice high quality bare rooted rhaspberry canes, lots of roots on these very pleased
Canes bought to increase existing deep trough grown stock. Excellent flavour firm fruit until early Nov this year. Usual strong quality canes with good root systems. Well packed and timely delivery.
Very strong healthy canes and quick delivery.
In the early 1980's we bought our first apple tree from Blackmoor following a visit to the nursery for an open day. At the time we lived nearby. Since then we've moved 200 miles away and 5 years ago planted up an orchard with Blackmoor fruit trees. All are doing excellently. Our new project is a soft fruit cage and our supply of Blackmoor's raspberries, black and red currants, and gooseberries look splendid. Couldn't recommend Blackmoor more highly. First class service to us for over 30 years!!
Delighted with quality of the plants and the delivery service. Thanks
I bought these raspberry canes in November. They arrived carefully wrapped and had been well cared for. The canes are already shooting in the garden. Roll on summer for the fruit +++
We planted these raspberry canes last winter and have had lots of fruit from them this autumn - strong, healthy plants, very easy to grow and most importantly, the fruit has been delicious and far superior to anything we have been able to buy in the shops. As always, our fruit plants from blackmoor have been far superior to any we have bought elsewhere
Canes just arrived, excellent service & quality,with good root system Thank you
Superb quality roots. All arrived wrapped in a big plastic bag with their own soil still on them and a couple of earth worms, as a bonus. :-) Thank you, Blackmoor, for a great service and excellent quality products.
Just received 10 Polka bare rooted canes. Arrived day after email informing me of dispatch. Canes of superb quality with large root systems. Excellent packaging ensured they were undamaged and well moist. Planting information very helpful. This is my first purchase from Blackmoor and I am very impressed with the service I have received.
Received 5 very healthly looking Polka bare root canes following a good maiden crop from canes planted in February 2014. Excellent flavour and large size. Very happy.
Canes arrived day following email notifying they had been despatched. Excellent canes in excellent condition.
Just received 10 Polka canes. Look really healthy with strong root systems. Bought as a result of Blackmoor's reputation on line and they have not disappointed. Also phoned for some planting advice afterwards and that was great also. Will be back!
Super looking canes arrived 24 hours after notice of dispatch. Excellent service as always.
canes arrived as promised and quality is very good.....
Excellent service and very impressed with quality of canes ordered.Many thanks
17 Oct 14 | Guy Shelbourne
Excellent service. Full updates on order progress and extra quick delivery. Will definately use again A++++++++
I was looking through various nurseries and decided upon yours from the good reviews. I got my dad( I am only 12 :))to order 5 canes of polka raspberry and it arrived well packed and very quickly as well. A few of them now also have leaves emerging. Hope I get some raspberries this year as I would love to make some yummy tarts!!!
Well I think William below has said everything I was going to Great root growth All I can add is to say keep adding or changing varieties to keep us interested in purchasing more !
5 Dec 13 | William Morrison
Having recently got an allotment I decided to buy some fruit trees and bushes. My first order (and only one so far) was from Blackmoor, for 10 bare rooted raspberry canes. I spent quite a lot of time, looking on the internet to learn about fruits, varieties and suppliers. I studied reviews on the numerous online nurseries and decided upon Blackmoor after reading time and time again how good they are. The website is easy to use and very informative. I decided upon Polka, which seems a great autumn type raspberry, just what I wanted. I placed my order, which was very easy and straightforward. A confirmation email was received, as were further emails updating me on the status of my order. The raspberries came today. I've unpacked them and they are now having a drink of water. I'll be potting them up in the next couple of days, then they'll go into my allotment when the trench is prepared. I can not comment on their growth, but the start they have had makes me confident that they'll do very well. They are very well rooted and were well packed, remaining moist in an inner black plastic bag. My general marks as as follows :- Web site and ease of use 5 / 5 Communication 5 / 5 Delivery 5 / 5 Canes 5/5 WELL DONE BLACKMOOR .. I SHALL BE ORDERING AGAIN FROM YOU
great site wiht good value plants,i have just got my first order, of raspberry canes,and will be ordering my strbberes, in the next few days
Raspberry Polka Growing Guide.
Planting Bare Root Raspberry canes: Plant the canes about 18" (45 cm) apart with 6 ft (1.8 m) between the rows. Avoid planting the young canes too deeply; a covering of 3" (7.5 cms) over the roots is ample. Cut the canes down to ground level immediately after planting. In the spring the new shoots will appear from beneath the soil. The young canes are then tied into a wire fence system for cropping the following season.
Planting Container Raspberries: Plant the canes about 18" (45 cm) apart with 6 ft (1.8 m) between the rows. Avoid planting the young canes too deeply; a covering of 3" (7.5 cms) over the roots is ample. Support the canes with a post and wire system or a bamboo cane. Container grown canes do not need pruning straight after planting.
Pruning Autumn Fruiting Raspberry Polka: Autumn fruiting raspberries fruit on the current year's growth. Cut back all the canes to ground level in February. Reduce the number of canes in the summer if they are overcrowded.