More Information
X - CLOSE
Blackmoor Nursery is one of very few Nurseries in the UK offering gardeners the opportunity to buy Kiwi plants online.
All orders are despatched in one delivery. If your order contains both bare root and container grown plants then we can only despatch when all plants are ready.
Kiwis can be grown in the UK in sheltered, sunny locations where sweet grapes grow successfully.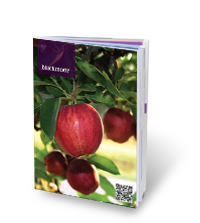 Collection - If you would like to collect your trees then use this option. Note the collection is from the Wholesale Nursery office between Monday-Friday only. Please allow 1 working days for your order to be processed prior to collection date.
We are not a Garden Centre or retail Nursery. Orders can be placed via our website and the collection option can be selected at the checkout. Your order will then be ready for you to collect during our normal opening hours which are Monday-Friday 07.30-16.30. Our plants are grown in fields that can be 2 miles away from our office so it is not possible to just turn up and select your own trees.
Delivery Charges - The delivery charge is worked out from the weight and the size of the plant. We have several rates that apply to UK mainland addresses. A delivery charge of £8.50 is for all single tree orders. £10.00 if more than one tree. Once you have put together your order the delivery charge will show before payment. All orders are despatched in one delivery.
To take advantage of a promotional code or gift voucher this must be entered into the redeem code box at the checkout. Discounts cannot be given once an order is completed and any codes have not been used.
Kiwi Actinidia Jenny
Kiwi Fruit Plants | Genus Actinidia deliciosa | Kiwi Plants For Sale | Buy Online
Kiwi Jenny (Actinidia deliciosa) - Kiwis can be grown in the UK in sheltered, sunny locations where sweet grapes grow successfully. This is a self-fertile variety that produces both male and female creamy-white flowers, so it does not need a pollinating partner to produce delicious, greenish-brown kiwi fruit - perfect if there is only enough space for one fruiting plant. A very hardy twining climber excellent for covering walls and tree stumps as well as their luscious fruits. A very nice attractive outdoor climbing plant.
Loyalty Reward Points. Save money as you grow with Blackmoor!
Receive 2% Reward Points for products purchased.
Receive Reward Points for writing a review and/or sharing this product.
Size
Description
Price
Availability
QTY
2 Litre
60-80 cm Tall
£13.00
90 Available
Good plants but have to say it does not handle frost at all below -2c it will take a hit then really struggles to recover BTW i keep weather records so you need a more sheltterd area certainly does not handle -5c as stated
The plants were perfect KIWI but sadly one very damage by hard frost -5c even though protected and now has made some real new growth it goes without saying that better protection is needed -4c i would think its limit.The same happened with grape again has made a good recovery.So be interesting to see how this winter goes.
what an absolutely fantastic plant this is. I love this. Not yielding fruit yet, but a magnificent plant and recieved 4 days ago, it has already grown 10cm. I'm so happy
Plants I have had so far look very good but need to wait for this year to see how they do one of my Kiwi plants was badly damaged by frost -5c hoping it will recover.I will do a progress review later in summer
My kiwi arrived today in superb condition. Planted and watered it this afternoon - now eagerly awaiting the fruit! (My Blackmoor peach I bought recently is now flowering - very exciting!)
23 Mar 17 | James Scarlett
Arrived in excellent condition and now looking forward seeing it grow and produce lots of fruit. The is the latest order of the many good plants and trees that I have purchased from Blackmoor over the past 2 years.
Super looking plant, with a few buds and leaves appearing, a lot healthier and more growth than I expected compared to a kiwi plant I had bought previously from a high street shop.
Great healthy looking plant, great service.
Delighted with my kiwi. Having already bought one for my friends birthday I thought I'd try one. As always, excellent service from ordering through to arrival of goods ( just 4 days from ordering). Looking forward to sampling fruit.
I was very happy with the quality of the plants I ordered, the kiwi is very healthy and the peach has developing fruit.Delivered next day to Aberdeen so couldnt have done any better!!!
12 Apr 14 | Lisa Thompson
We were amazed by the quality of the Kiwi we received and it was unbelievably well packaged. It survived the winter and although it got knocked back by recent frosts (I neglected to protect it) it is bursting with new shoots.
Bought in a previous year and has proved productive, even in the North. Lovely tasting fruit.
Wonderful plant which I bought when it was on offer during the summer. It arrived with healthy growth and buds on it. Since then it has flourished on my allotment- really pleased with both the plant and the service. Thanks Blackmoor!
Lovely 6ft tall kiwi for a great £18 - had an interesting journey home with this with all our holiday gear in the car as well along with the two blueberry bushes we bought - 3yr old bushes which are in great condition. Thanks
7 May 13 | Mrs Susanna Clymo
You offered us your kiwi plants, and we ordered two. They are beautifully packed, and are tall, leafy and gorgeous plants. We never expected such generosity (£10 each) and the packaging is so good that my three grandchildren turned it into a Christopher Columbus boat exploring the seas to America while my daughter and I dug a deep hole for the huge root pots. There are even flower buds on these mature plants. This is a Greenwich allotment. The second plant is planned for my own allotment (Battle, Sussex) where I hope it will scramble through an overgrown hedge and produce lots of fruit. Thank you.
Beautiful Kiwi Vine delivered safe and sound with flower buds on. Very impressed with both its value and fast delivery. Will most definitely be ordering from Blackmoor nurseries again. Thank you
I purchased the 7.5 litre size and very pleased with my selection. The plant I received was a good 1.65cm tall. Very well priced product! Thank you. Gerry
13 Mar 13 | Geoff Mallinson
Paying by Paypal was a little sticky, I had to do it a couple of times for it to register the correct amount. I had wanted to include this order with the replacement raspberry canes to save on postage, I even offered to pay half the postage if the items were combined which would have saved you a few pounds and would have been better for both of us, unfortunately it seems that this could not be done, I still have good faith in Blackmoore Nurseries and will use you again. Kind regards Geoff Mallinson
8 Mar 13 | Tamsin McDermot
Fantastic plant recieved and so well packaged. Thank you