More Information
X - CLOSE
Fruit trees for sale | Cherry Trees.
Blackmoor Nursery is one of very few Nurseries in the UK offering gardeners the opportunity to buy Cherry fruit trees direct from our Nursery.
All orders are despatched in one delivery. If your order contains both bare root and container grown plants then we can only despatch when all plants are ready.
Any Bare Root fruit trees - Availability means available for supply from Nov to May.
Any Container grown fruit trees - Availability means available for supply now.
How tall will my Cherry tree grow?
Fruit trees are grafted onto rootstocks. Rootstocks come in 5 sizes (2 for Cherries) see the chart below, all of our trees are labelled using these codes.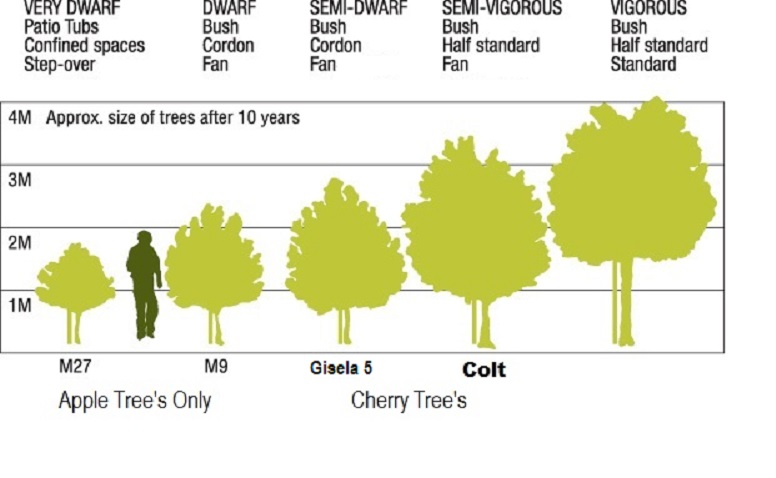 Click to enlarge
Gisela 5 - Rootstock for Cherry trees.
Dwarfing, Approximate height 2.5-3 metres when mature.

Colt - Rootstock for Cherry trees.
Semi dwarfing, Approximate height 3-4 metres when mature.
Bare Root = Field grown trees that have been freshly lifted and supplied with no soil around the roots. Only available during the dormant period November-April
10 Litre = Container grown and can be planted all year round. The size refers to the number of litres of compost that the container holds.
1 Year Maiden = A one year old tree and the size depends on the variety but in general they will be 125cm in height and will have some side branches.
2 Year Bush = A two year old tree that has been pruned back in the first winter to form a bush shape. Generally trees will be 140-160cm in height with multiple side branches. This height guide is an end of summer height.
Fan trained Cherry - Trees grow to an eventual height of around 2 m (7 ft). Although the shortest of all the forms, they will grow to a width of around 3 m and are really only a practical proposition when grown against a wall but please bear in mind that only Cherry Morello can be grown successfully on a north-facing wall or fence.
Plant trees or bushes in a sunny site with good air circulation and average to rich, well-drained soil. They prefer a soil pH of between 6.0 and 6.8 (slightly acidic).
Avoid low areas where frost and standing water can be a problem (especially for sweet types) or sites where cherries, peaches or plums have grown previously.
Most suburban situations provide good pollen due to the close proximity of other gardens. It is not always necessary to have pollinators if the bees and other pollinating insects are generous with their visits. If you have no other Cherry tree close by then select two varieties in the same group or the adjoining group ie group B and D will pollinate group C as will any others in group C. Some varieties are self fertile.
Collection - If you would like to collect your trees then use this option. Note the collection is from the Wholesale Nursery office between Monday-Friday only. Please allow 1 working days for your order to be processed prior to collection date.
We are not a Garden Centre or retail Nursery. Orders can be placed via our website and the collection option can be selected at the checkout. Your order will then be ready for you to collect during our normal opening hours which are Monday-Friday 07.30-16.30. Our plants are grown in fields that can be 2 miles away from our office so it is not possible to just turn up and select your own trees.
Delivery Charges - The delivery charge is worked out from the weight and the size of the plant. We have several rates that apply to UK mainland addresses. A delivery charge of £9.95 is for all single tree orders. £11.40 if more than one tree. £15.00 charge for larger orders except in the case of the Espalier Fans and Step Over trained trees where this charge is between 40.00 - £57.00 depending on the delivery location. Once you have put together your order the delivery charge will show before payment. All orders are despatched in one delivery.
To take advantage of a promotional code or gift voucher this must be entered into the redeem code box at the checkout. Discounts cannot be given once an order is completed and any codes have not been used.
Sunburst
Cherry Fruit Trees | Pollination group C | Sunburst Cherry Fruit Trees For Sale | Buy Online
Sweet Cherry Sunburst fruit trees - Sunburst was developed at the Summerland Research Station in British Columbia, Canada. It was first released in 1965. Sunburst has very large near black fruits. This sweet cherry is very similar to Stella in growth habit but the fruit is darker in colour. Sunburst cherry has a gorgeous flavour. Picking time July. Sunburst is a self fertile cherry tree that would be our choice in any garden.
Size and shape of Sunburst cherry trees for sale below.
Loyalty Reward Points. Save money as you grow with Blackmoor!
Receive 2% Reward Points for products purchased.
Receive Reward Points for writing a review and/or sharing this product.
Rootstock
Description
Price
Availability
QTY
Colt
2 Year Bush - 10 Litre
£40.00
2 Available
I have got ordered plants in good condition and well packed.
8 Jun 17 | Deborah Williams
The Sunburst Cherry Colt arrived well packaged and in good condition (April 2017). It's a healthy and well sized young tree. I kept it watered in the pot while we had very dry weather and it was not adversely affected. Excellent product and service.
14 Mar 17 | david davison
again good service and delivery, the sunburst cherry Gisela 5 looking good have not planted yet,thank you blackmoor for the high service you give.
Nicely packaged, roots intact and moist still. I look forward to fan training this tree.
Fast delivery and well packaged, I'm really happy with this cherry tree, it had lots of buds and is now covered in healthy leaves, looking forward to some cherries in the summer!
Arrived in good condition. Very pleased. Blackmoor always top quality trees
Beautiful healthy cherry tree in excellent condition covered in buds. Arrived well packaged and within a couple of days of ordering. This is the second time I have ordered from Blackmoor and will definitely do so again.
Lovely looking cherry tree, very well packed and delivered within 2 days of ordering. Also a very prompt reply to a query. I will definitely order again.
Beautiful strong tree, would have liked the branches to be more even as it is slightly lopsided with one less that has be pruned off on one side so it is not symmetrical. Otherwise very pleased every time I walk past it.
excellent service the trees arrived well packed and in good condition.
I come back to Blackmoors time and time again because the fruit stock is second to none; the customer service is excellent; the packaging is sturdy; despatch is swift ie a few days rather than weeks. Again, this Sunburst I have just received is one fine specimen. Thankyou so much everyone at Blackmoors. I love my tree!
Excellent healthy tree delivered speedily and very well packaged. Superb service as usual.
Four our 5th wedding anniversary ("wood"), we ordered two espalier apple trees – Bountiful and Braeburn, and a fan trained Sunburst cherry. I'd phoned Blackmoor nurseries to ask advice about pollinating groups and the very helpful lady there steered me in the right direction. They arrived within just a few days, carefully packaged and looking beautifully strong and healthy. Our families came to help us plant them as a little wedding anniversary celebration and they look stunning, with their obvious good health and striking architectural shape. The Bountiful is so happy it's sprouted some new leaves, even though it's the beginning of winter! We only have a small garden so these espaliers are ideal against our fences and give an elegant, formal look to the garden. We look forward to the fruit, and in the meantime they already give lots of pleasure just by looking attractive.
I've had this variety before from elsewhere, I paid more for it and the quality of the tree was nowhere near that of the one you sent. The flavour is amazing. I have been so pleased with the service, the trees were all excellent and very well packed to ensure they arrived in tip top condition. I've bought another this year as I am a sucker for cherries. Many thanks.
A beautiful 2 year Sunburst Colt arrived for me today, fabulous condition and well packed. Thank you.