More Information
X - CLOSE
Fruit trees for sale | Plum Fruit Trees.
Blackmoor Nursery is one of very few Nurseries in the UK offering gardeners the opportunity to buy Plum fruit trees direct from our Nursery.
All orders are despatched in one delivery. If your order contains both bare root and container grown plants then we can only despatch when all plants are ready.
Any Bare Root Plum fruit trees - Availability means available for supply from Nov to May.
Any Container grown Plum fruit trees - Availability means vailable for supply now.
How tall will my Plum tree grow?
Plum Fruit trees are grafted onto rootstocks. Rootstocks come in 5 sizes (2 for Plum trees) see the chart below, all of our fruit trees are labelled using these codes.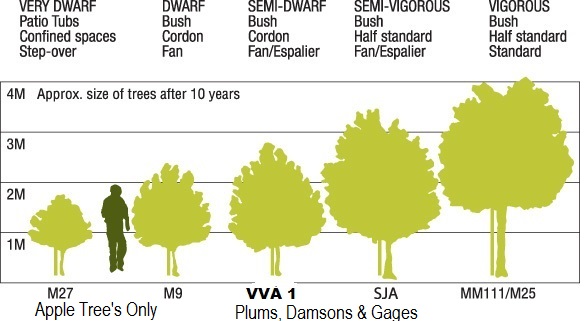 Click to enlarge
VVA-1 - Rootstock for Plum trees.
Dwarf 2.5 metres when mature. The new dwarfing rootstock for Plum trees that has replaced Pixy.
St Julien A (SJA) - Rootstock for Plum trees.
Semi dwarfing, Approximate height 3.5-4 metres when mature.
Bare Root = Field grown trees that have been freshly lifted and supplied with no soil around the roots. Only available during the dormant period November-April.
10 Litre = Container grown and can be planted all year round. The size refers to the number of litres of compost that the container holds.
1 Year Maiden = A one year old tree and the size depends on the variety but in general they will be 100-125cm in height.
2 Year Bush = A two year old tree that has been pruned back in the first winter to form a bush shape. Generally trees will be 140-160cm in height with multiple side branches. This height guide is an end of summer height.
Fan trained Plums - Trees grow to an eventual height of around 2 m (7 ft). Although the shortest of all the forms, they will grow to a width of around 3 m and are really only a practical proposition when grown against a wall or fence.
Pollination Made Simple
Most suburban situations provide good pollen due to the close proximity of other gardens. It is not always necessary to have pollinators if the bees and other pollinating insects are generous with their visits. If you have no other Plum tree close by then select two varieties in the same group or the adjoining group ie group B and D will pollinate group C as will any others in group C. Some Plum varieties are self fertile.
For most fruits choose a warm sheltered position avoiding wet or shaded spots, although soft fruit will tolerate some shade. Avoid north walls except when planting blackberries which will crop successfully, albeit, a little later in the season. Crops are likely to be sparse in frosty situations. If birds are troublesome a fruit cage can be erected.
Collection - If you would like to collect your trees then use this option. Note the collection is from the Wholesale Nursery office between Monday-Friday only. Please allow 1 working days for your order to be processed prior to collection date.
We are not a Garden Centre or retail Nursery. Orders can be placed via our website and the collection option can be selected at the checkout. Your order will then be ready for you to collect during our normal opening hours which are Monday-Friday 07.30-16.30. Our plants are grown in fields that can be 2 miles away from our office so it is not possible to just turn up and select your own trees.
Delivery Charges - The delivery charge is worked out from the weight and the size of the plant. We have several rates that apply to UK mainland addresses. A delivery charge of £9.95 is for all single tree orders. £11.40 if more than one tree. £15.00 charge for larger orders except in the case of the Espalier Fans and Step Over trained trees where this charge is between 40.00 - £57.00 depending on the delivery location. Once you have put together your order the delivery charge will show before payment. All orders are despatched in one delivery.
To take advantage of a promotional code or gift voucher this must be entered into the redeem code box at the checkout. Discounts cannot be given once an order is completed and any codes have not been used.
Opal (AGM)
Plum Fruit Trees | Pollination group B | Type Dessert Plum | Award of Garden Merit | Genus Prunus domestica Opal | Opal Plum Fruit Trees For Sale | Buy Online
Dessert Plum Opal fruit trees for sale - Opal is a superb early variety of Plum. The red fruits have a yellow flesh that parts from the stone with ease. Opal is sometimes thought of as a Gage like Plum due to it's excellent flavour. A very good reliable self fertile choice for any gardens in the UK. The fruits are a medium size. Picking time late July. Opal has a long ripening period 12-14 days so you do not get a glut of Plums all in one go. An excellent Plum to eat fresh, but it is also useful for jams and fruit crumbles. Plum Opal Received the Award of Merit from the Royal Horticultural Society.
Size and shape of Opal plum trees for sale below.
Loyalty Reward Points. Save money as you grow with Blackmoor!
Receive 2% Reward Points for products purchased.
Receive Reward Points for writing a review and/or sharing this product.
Available To Order - 30th May
Description
Price
Availability
QTY
Lovely tree delivered well packaged and in good condition.Delivery by Tuffnells was the morning of the next day as per email from Blackmoor. Excellent. Thank you.
Just received a one year maiden tree which is a lovely example. Bought it at a reduced price which makes it even better! Thanks again Blackmoor for helping to fill up my already overstocked garden!
14 Nov 18 | Mark and Imogen
Ordered in Feb 18 and planted out in the ground around the same time. The tree has grown well over the year with healthy new growth and a lovely shape. Took off all fruit early as it was newly planted but it looked to be a good crop - looking forward to next year,
Can't leave less than 4 or 5 stars or negative reviews here. Misleading feedback system violates Consumer Protection law by skewing buying decisions. This is illegal as well as cowardly.
Beautiful bare root bush arrived on a date I specified. Perfect condition and expertly trained. I'm very happy with my Opal plum fruit tree!
Ordered a VVA root stock version last summer and have now received it. It looks in good condition and have planted it in a raised bed. Looking forward to getting some good fruit over many years providing I get the pruning right.
Thank you for your quick service I ordered an opal plum tree Monday afternoon and it delivered today now in ground
I come back to Blackmoors time and time again because the fruit stock is second to none; the customer service is excellent; the packaging is sturdy; despatch is swift ie a few days rather than weeks. Again, this Opal I have just received is one fine specimen. Thankyou so much everyone at Blackmoors. I love my tree!
Very pleased with my tree that was delivered last week - looks like a very nice plant, arrived on time with clear instructions. I hope it will do well.
Excellent healthy tree delivered speedily and very well packaged. Superb service as usual.
26 Jul 14 | Leanne Skelton
Fantastic! I had no problems finding what I wanted and was more than pleased when this plum tree arrived. Great people to deal with.
14 Mar 13 | Lucinda Watson
Does very well in my garden in Norfolk. Good crops every year.
Very easy to navigate around. The photographs are very good and help you to choose correctly.
Opal Plum Growing Tips.
Plums are the most popular of the stone fruit and they are also the easiest to grow. Many plum varieties are self fertile. There are two rootstocks to choose from; St Julien A which is semi vigorous and will reach a height of 3.5-4 metres when mature and VVA-1 which is dwarfing and will reach a height of 2.5 metres when mature.
How to grow a Opal Plum tree in my garden - Our Care Guide for fruit trees will help you get the very best from your tree.
How to plant my Plum tree - Our How To Growing Tips section on our website has a video that will show you how.
When is the best time to plant a fruit tree - Container grown Plum trees can be planted at any time of the year. Bare Root Plum trees can only be planted between the months of November - April.
Planting distance for Plum trees - All fruit trees are grafted onto a rootstock. It is the rootstock that determines how big the Plum tree will grow into. There is a rootstock guide on the left hand side of all fruit tree product pages that explains this. As tall as the tree will grow into would be the planting distance. Example St Julien A will grow to 3-4 metres when mature. So a spacing of between 3-4 metres would be required.
Can I grow a Plum tree in a pot - All fruit trees will be happy growing in a large container. A pot around 50-60cm is ideal. There is more information on growing fruit trees in containers in our FAQ page.
How do I prune a Plum fruit tree - Our Care Guide explains the basic principles of fruit tree pruning.
Blackmoor is one of very few Nurseries in the UK offering gardeners the opportunity to buy Prunus domestica Opal Plum fruit trees direct from our Nursery. We have one of the largest range of fruit trees available for sale online.