All orders are despatched in one delivery. If your order contains both bare root and container grown plants then we can only despatch when all plants are ready.
Any Bare Root fruit trees - Availability means available for supply from Nov to April.
Any Container grown fruit trees - Availability means available for supply now.
A guide to selecting your fruit tree. Rootstocks come in 5 sizes see the chart below, all of our trees are labelled using these codes.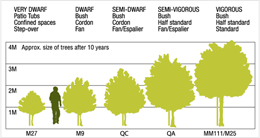 Click to enlarge

M26
Semi dwarfing, Approximate height 3-4 metres when mature.
12 Litre = Container grown and can be planted all year round. The size refers to the number of litres of compost that the container holds.

2 Year Bush = A two year old tree that has been pruned back in the first winter to form a bush shape. Generally trees will be 150-175cm in height with multiple side branches.
The varieties will cross polinate each other to ensure maximum crops year after year.
The varieties will cross polinate each other to ensure maximum crops year after year.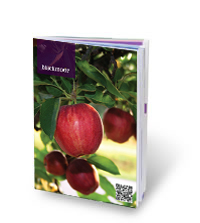 Collection - If you would like to collect your trees then use this option. Note the collection is from the Wholesale Nursery office between Monday-Friday only. Please allow 1 working days for your order to be processed prior to collection date.
We are not a Garden Centre or retail Nursery. Orders can be placed via our website and the collection option can be selected at the checkout. Your order will then be ready for you to collect during our normal opening hours which are Monday-Friday 07.30-16.30. Our plants are grown in fields that can be 2 miles away from our office so it is not possible to just turn up and select your own trees.
Delivery Charges - The delivery charge is worked out from the weight and the size of the plant. We have several rates that apply to UK mainland addresses. A delivery charge of £8.50 is for all single tree orders. £10.00 if more than one tree except in the case of the Espalier and Fan trained trees where this charge is a maximum of £40.00. The lower postal rates range from £2.80 - £5.70, will be applied to smaller orders of the lighter plants like currants, raspberries, gooseberries, blackberries, asparagus and strawberries although larger orders will go into the £10.00 rate. Once you have put together your order the delivery charge will show before payment. All orders are despatched in one delivery.
To take advantage of a promotional code or gift voucher this must be entered into the redeem code box at the checkout. Discounts cannot be given once an order is completed and any codes have not been used.
Concorde/Conference/Comice
Family Fruit Trees | Genus Pyrus
Concorde Dessert Pear - A new Pear from East Malling Research Station. A perfect garden variety as the growth is quite compact. Concorde is also self fertile. Received the Award of Merit from the Royal Horticultural Society. It is a reliable and heavy cropper. Ideal for the small garden. Has Conference and Doyenne du Comice as parents. Very good flavour with melting juicy flesh. Picking time late October.
Conference - Dessert Pear-Remains the number 1 choice because of its reliability under less than favourable conditions. Fruits are long and narrow with juicy but firm flesh. Pick late September. Stores well.
Doyenne du Comice - Dessert Pear-The Queen of Pears if you are looking for flavour. The texture and taste are truly outstanding. It does require a warm sheltered site, with other varieties to pollinate. Pick mid October.
Loyalty Reward Points. Save money as you grow with Blackmoor!
Receive 2% Reward Points for products purchased.
Receive Reward Points for writing a review and/or sharing this product.
| Rootstock | Description | Price | Availability | QTY |
| --- | --- | --- | --- | --- |
| Quince A | 3 Varieties On One Tree - 12 Litre | £49.60 | 15 Available | |