More Information
X - CLOSE
Fruit plants for sale | Fig Trees.
Blackmoor Nursery is one of very few Nurseries in the UK offering gardeners the opportunity to buy Fig fruit plants direct from our Nursery.
3&4 Litre - A pot grown plant. These are one year old plants that are ideal to grown in any shape you wish.
5 Litre - Half Standard and has a clear stem on 90cm before and growth. Ideal for growing in a large pot or open ground with a lollipop shape. Not suitable for trying to grow as a Fan shape.
For best results plant into a pit or grow in a large container to restrict root growth.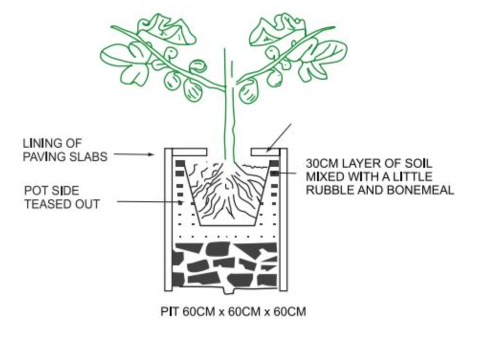 Click image to enlarge
It is the small pea-sized embryo figs formed in the autumn, that over-winter to produce a crop of figs the following August/September. Any figs that are larger than this, will not ripen and should be removed in November.
For best results plant into a pit to restrict root growth. It is the small pea-sized embryo figs formed in the autumn, that over-winter to produce a crop of figs the following August/September. Any figs that are larger than this, will not ripen and should be removed in November.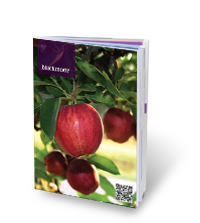 Collection - If you would like to collect your trees then use this option. Note the collection is from the Wholesale Nursery office between Monday-Friday only. Please allow 1 working days for your order to be processed prior to collection date.
We are not a Garden Centre or retail Nursery. Orders can be placed via our website and the collection option can be selected at the checkout. Your order will then be ready for you to collect during our normal opening hours which are Monday-Friday 07.30-16.30. Our plants are grown in fields that can be 2 miles away from our office so it is not possible to just turn up and select your own trees.
Delivery Charges - The delivery charge is worked out from the weight and the size of the plant. We have several rates that apply to UK mainland addresses. A delivery charge of £8.50 is for all single tree orders. £10.00 if more than one tree except in the case of the Espalier and Fan trained trees where this charge is a maximum of £40.00. The lower postal rates range from £2.80 - £5.70, will be applied to smaller orders of the lighter plants like currants, raspberries, gooseberries, blackberries, asparagus and strawberries although larger orders will go into the £10.00 rate. Once you have put together your order the delivery charge will show before payment. All orders are despatched in one delivery.
To take advantage of a promotional code or gift voucher this must be entered into the redeem code box at the checkout. Discounts cannot be given once an order is completed and any codes have not been used.
Fig Brown Turkey (AGM)
Fig Trees | Award of Garden Merit | Genus Ficus carica | Brown Turkey Fig Plants For Sale | Buy Online
Fig Brown Turkey plants for sale - Brown Turkey is a delicious fig to eat and a very prolific cropper. A hardy variety for outdoors but also good under glass. Brown Turkey has red flesh that has a rich and sweet flavour. For best results plant your Fig into a pit to restrict root growth or grow in a large pot. Pick Brown Turkey Figs in August to September. A Self fertile Fig so no need for another variety. Brown Turkey received the Award of Merit from the Royal Horticultural Society.
Loyalty Reward Points. Save money as you grow with Blackmoor!
Receive 2% Reward Points for products purchased.
Receive Reward Points for writing a review and/or sharing this product.
Size
Description
Price
Availability
QTY
2 Litre
40-50cm Tall
£17.60
237 Available
5 Litre
90cm Clear Stem - Half Standard
£32.90
34 Available
Have to like most the products i received have look great but sadly with this even following all the instruction it died in its 2nd year so no idea why even after sending photo in nore did Blackmore
Super looking fig tree.. all ready for collection within a few days.. great service. Very welcome care guide.Thank you
Arrived well packaged and in great condition. Has made a lovely little tree and is growing happily in a pot in the garden.
Good quality with lots of new growth.
Received my fig tree today in very good condition boxed and wrapped well, aftercare instructions very helpful, really can't wait until next year 🌳👍😀 would definitely recommend and buy another one next year
11 Jun 20 | roger edmondson
I ordered 2 fig trees arrived today excellent quality and size very well packed and in great condition highly recommended well done thanks. roger
I ordered 2 of the fig trees and collected them on the day I asked for with no problems what so ever. The trees were in excellent condition and the extra advice I got from the very helpful man was great. What a fantastic place. Thank you.
This year was great for our figs. Had a very big harvest. Very sweet and juicy when left to ripen in the tree. This is the third year for my fig tree. Many thanks to Blackmoor for giving such an amazing quality plant. Last year I lost all my figs to squirrels and birds. But this year I had netted them and wrapped the sides with mesh cloth. I haven't lost a single fruit this year. Thanks again to Blackmoor and I strongly recommend any trees and plants from them.
I ordered a year old Brown Turkey as a birthday present. It arrived beautifully packed and glowing with health - my friend is thrilled with it! A special thanks to your team as I left ordering to the last minute. I put a note on the form explaining my shortcoming. Much to my surprise it arrived within 48 hours - fabulous service Blackmoor, I couldn't have asked for better.
This arrived as a one stem little specimen in the winter of 2017. It has grown and branches rather significantly last year, had bore a couple of figlets. They didn't make it as I think the summer of 2018 was too dry and long working hours means we haven't paid too much attention to it. The plant grew strongly regardless. We are planning it in a bigger wooden tub this week and are connecting it to a self-irrigating system, we could see some little buds already and hoping for a few nice figs this year!
Thank you both fig trees arrived safely very well packed, actually took some time to unwrap. Both plants in excellent condition one already had five small fruits on it. Very well pleased thank you again.
The plant is not cheap. I planted it in open ground. The soil is predominantly clay but a large hole was prepared and rotted manure and compost was mixed in before planting. We had a very wet long spring. The plant never even started. to shoot.
11 Sep 17 | Zabeena Pandian
Lovely tree with a few little figs on already. Look forward to the harvest the year after next.
I bought a 10L Brown Turkey Standard in July 2014. Beautiful thing, though obviously no fruit that year. It's in a large pot on a sun-trap patio in Suffolk and this year has produced more than 50 fat and luscious figs! Most rewarding thing I've ever grown! Thanks Blackmoor
Nice fig tree, very well packed and arrived in record time, Thanks.
I have been growing this successfully in a pot on the patio for two years, now. It has fruited both years, and the fruit is delicious.
I bought Brown Turkey some years ago. Now it is 10 feet high on an East facing wall of our house in Stockport. Not only has it survived some bad Winters but it seems to enjoy its location and produces a quantity of figs every year. Last year (2015) the crop was big enough to make 10 jars of delicious fig and mango jam. this is a winner
Lovely quality. Arrived really well packaged too.
This was my first order. Delivery took some time but worth waited. very healthy looking plant. Good packaging.
Great service, well packaged and wonderful quality of fig plant. Cannot wait until next year for my first fig crop! Thank you.
21 Oct 15 | Shahid Mohammed
I ordered two 10l Brown Turkey Fig trees which arrived today after putting in the order three days ago. The fig trees are just fantastic, really healthy and well pruned with a number of side branches. The packaging of the trees was outstanding, no damage at all. I will definitely be buying more fruit trees from Blackmoor. The trees, packaging and speed of delivery are all amazing.
As always from Blackmoor's, a very healthy tree (complete with a few figs). I have not grown figs before, so I look forward to seeing this one develop. They also included a leaflet on planting, which is a useful reminder that figs need to have their root growth restricted.
Fast delivery and a fabulous, very healthy looking tree. Easy to follow instructions on planting - can't wait to get (hopefully) fruits net year! Great, helpful chat too!
Excellent healthy tree delivered speedily and very well packaged. Superb service as usual.
Brown Turkey Fig Growing Tips.
How to grow a Fig Brown Turkey in my garden -
Figs need warmth and sun and so are best grown as fan-trained trees against south or south-west facing walls or fences. In very favourable areas they can be grown as freestanding bush trees. Therefore choose a well-sheltered spot, which is exposed to the sun and plant 4-5 m (12-15 ft) apart. If grown against a wall it should be planted approximately 25cm (10in) away from the wall to avoid it being in a rain shadow.
The traditional method of planting is to construct a fig pit measuring 60 cm x 60 cm x 60 cm (2 ft x 2 ft x 2 ft). This can be constructed of 60cm x 60cm (2ft x 2ft) square paving slabs or something similar which are set into the ground with the rim about 2.5cm (1in) above ground level. The base of the pit should be packed with brick rubble or broken tiles to a depth of approximately 22cm (9in) to provide drainage and to prevent the roots escaping.
The pit should be filled with a loam based potting compost such as John Innes No 3. Alternatively a pot of 35-45cm (14-18in) diameter can be used and plunged into the ground – provided it has adequate drainage holes. Crock it well and again use a loam based potting compost such as John Innes No 3. Repotting of pot grown figs will be necessary every 2-3 years – do this in late winter.