All orders are despatched in one delivery. If your order contains both bare root and container grown plants then we can only despatch when all plants are ready.
Montclare Rootstock - Semi dwarfing, around 3 metres when mature.
St Julien A (SJA) - 3.5 - 4 metres when mature.
Any Bare Root Items - Availability means Available for supply from Nov to May.
Any Container grown items - Availability means Available for supply now.
Best grown against a south-facing wall or against a greenhouse.
Control of peach leaf curl is essential. Peach leaf curl is a fungal disease, which, if left untreated, puts trees under severe stress due to the excessive leaf loss.
Bare Root = Field grown trees that have been freshly lifted and supplied with no soil around the roots. Only available during the dormant period November-April
10 Litre = Container grown and can be planted all year round. The size refers to the number of litres of compost that the container holds.
1 Year Maiden = A one year old tree and the size depends on the variety but in general they will be 125cm in height and will have some side branches.
2 Year Bush = A two year old tree that has been pruned back in the first winter to form a bush shape. Generally trees will be 150-175cm in height with multiple side branches.
Warm sheltered site required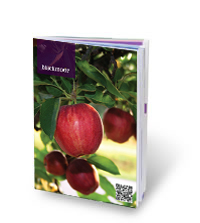 Collection - If you would like to collect your trees then use this option. Note the collection is from the Wholesale Nursery office between Monday-Friday only. Please allow 1 working days for your order to be processed prior to collection date.
We are not a Garden Centre or retail Nursery. Orders can be placed via our website and the collection option can be selected at the checkout. Your order will then be ready for you to collect during our normal opening hours which are Monday-Friday 07.30-16.30. Our plants are grown in fields that can be 2 miles away from our office so it is not possible to just turn up and select your own trees.
Delivery Charges - The delivery charge is worked out from the weight and the size of the plant. We have several rates that apply to UK mainland addresses. A delivery charge of £8.50 is for all single tree orders. £10.00 if more than one tree except in the case of the Espalier and Fan trained trees where this charge is a maximum of £40.00.
To take advantage of a promotional code or gift voucher this must be entered into the redeem code box at the checkout. Discounts cannot be given once an order is completed and any codes have not been used.
Dwarf Peach Terrace Amber
Peach Fruit Trees
Peach Terrace Amber - Perhaps the most famous of all Floyd Zaiger's plants are his Peaches, and Amber is almost his flagship variety. A perfect yellow flesh Peach with the sweetest of flavours and juiciest of textures will bring a smile to all that taste it. This self fertile variety which blooms pink during March is one of the easiest varieties to grow and will give years of pleasure in the garden. The long leaves which can reach almost 15cms in length hang down in great numbers giving an almost "mop head" appearance.
Loyalty Reward Points. Save money as you grow with Blackmoor!
Receive 2% Reward Points for products purchased.
Receive Reward Points for writing a review and/or sharing this product.
| Size | Description | Price | Availability | QTY |
| --- | --- | --- | --- | --- |
Excellent packing and very strong tree. Looking forward for the fruits.
A big thank you, very pleased with the fruit tree, very well packaged, quick delivery, Highly recommended , thanks.
Amber arrived in full bloom and almost no petal drop in transit. Already looking handsome in the garden.
Just a quick note to let you know my plants arrived safely the day after dispatch, and I am very pleased with them. Much larger than I expected, they now look like they have been growing in their spots for years. I was particularly impressed with the Patio peaches, beautiful little trees with instant impact! Many thanks for your excellent service, I shall definitely recommend your nursery to others. Best wishes